Countdown to Christmas: 37 days.
I find myself  in the holiday spirit much earlier than usual. Since Thanksgiving isn't a celebrated holiday in England, I've found it perfectly acceptable to sing Christmas carols several times a day, buy an Advent calendar two weeks before December even starts, decorate gingerbread men, and even purchase a "Grow Your Own Christmas Tree", even though it will probably only be two inches tall by the time I leave England.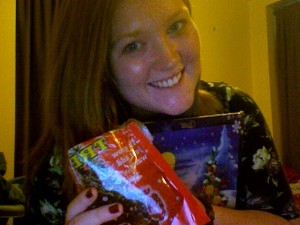 I was thrilled when I was walking downtown for my weekly grocery shopping this past Monday, and realized a discount Christmas store had opened only a few blocks from my house. I felt like a child while walking through there, "oohing" and "aahing" at every ounce of tinsel and lights. Cambridge's skinny little streets have also been turned into a fascinating show of lights by night, and even seeing the unlit lights hanging in the daytime brings a smile to my face.
I've always been a huge fan of Christmas, but this year, I find myself even more appreciative of the values it brings. After not seeing my family for several months, I will relish every moment of the laughter and hugs that Christmas dinner and the unwrapping of gifts will bring. I daydream about curling up near my grandparent's fireplace for a good nap, helping my other Grandma to decorate the tree, and even attempting to dress my dog in the Santa outfit that she always refuses to wear.
Just as the famous song goes, "I'll be home for Christmas.." But in my case, it won't be only in my dreams