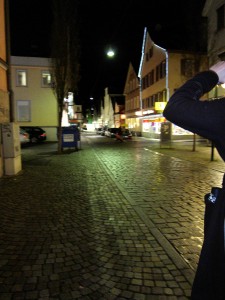 I got over the whole "What the Hell was I thinking" phase pretty quick.  Pretty much the second after we touched down in Munich, I entered the "O.M.G!" phase, and I think this phase is going to last a bit longer than the last one.  Germany is could quite possibly be the coolest place on earth!  After everything we see, I am like "O.M.G!"  Not literally, only newbs and divas actually talk like that, but figuratively.  I don't sleep much anymore because I am too excited about what the next day will bring! So, if my eyes look bloodshot in the pictures I post, it's due to lack of sleep; I haven't been to Amsterdam yet…
We took Mercedes Benz bus to the University after we arrived in Stuggart.  Crazy right?! Mercedes is to Germans like McDonalds in the US; they are everywhere.  I'll tell you more about it later on in the blog. Get excited!
Once we arrived on campus, Suszanna took us on a walk through town.  That's when the "O.M.G's!" really started to roll off my tongue.  (remember, figuratively, not literally) Reutlingen is what one would think of as the quintessential German town.  Google "German houses" and you will see what I am talking about.  As we walked through the town that night on the cobble stone streets with the Christmas lights were hanging above us; I turned to Veronica and was like "This can't be real life!"  Except it is! Life couldn't really get any better than this!
We stopped and ate dinner at Piatzo, which is like a fancy Italian fast-food restaurant, kind of like Noodles in Valpo.  I had the Salami Pizza and a Heferweizen; it was delicious! I have discovered a newfound love for pizza and beer, and that I am a lightweight.  Now Mom, I didn't get drunk the first night, not even close, it was just one of my many discoveries thanks to magnificent Germany!