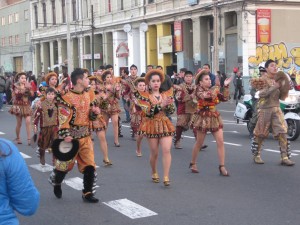 Hola choros!
I'm working on a couple longer posts, but I wanted to give a quick update on the Festival de San Pedro that happened this weekend! There are always surprises in Chile, especially because people don't like to tell you about upcoming events in advance! So on Friday we learned that there was going to be a festival and parades and boat display on Sunday and a vacation day with no school or work on Monday, que bakan! (awesome!)
And the celebration on Sunday was SO cool, I had no idea what to expect, but we went to the main harbor and there were tons of people there….but nothing happening…but all the boats were decorated with flowers and little flags, so that was pretty to see…and just as we were getting bored and thinking of going to a restaurant, this loud marching band music starts up and a huge parade comes our way! And this was no Tulip Time parade, this was a Chilean parade for sure, because it was all music and dancing! There were tons of different dancing groups, each wearing the traditional clothing for the type of dance that they were performing, and personal little marching bands to follow each group of dancers. Mixed in were banners and images and mini floats of the Virgin Mary, San Pedro and other saints. San Pedro is the patron saint of fisherman, therefore since Valparaiso is the most important port city in Chile and a has a huge shipping and fishing industry, Valparaiso throws one heck of a party on this day

The best part was that once the parade was finished and passed us, we started walking after the dancers down the parade route, trying to mimic there dance moves, and once we had them down started dancing behind the last marching band with the same moves that the real dancers were doing, in the parade route, baha!! People started laughing and taking pictures of us along with the dancers and yelling "gringas miren aca! Aca!" (White girls, look over here!"…I was with two of my friends who are from France and a Chilena

). It was hilarious, we were dancing like that for a good 20 minutes until the real dancers finally ended, and then on our way back to the harbor, another parade started up! More dancing!
Then today we had a lovely free day to sleep in and then headed out to the sand dunes at Con Con, a city close to Vina del Mar, very touristy (you can tell because there was a McDonalds, Starbucks and Burger King and huge condo buildings along the beach

). The dunes were so beautiful! So I spent my afternoon hiking, eating our picnic lunch of bananas, turkey and cheese sandwiches, peach juice (I'm addicted to juice because of Chile, they have every possible flavor and stands all over that squeeze it for you fresh, SO GOOD!), and our dessert of oreos and peanut butter, and finally watching the puesta del sol (sunset) over the ocean…life is good!
So there's my holiday update! I return to work tomorrow, but this upcoming weekend we're going to celebrate the 4th of July with our Chilean friends by having a good ol' American cookout! Too bad fireworks are illegal here…

Chao amigos! Besitos!