Registration is now open!
We are very excited to bring back the Great Lakes Meteorology Conference after a 3 year gap. The conference will take place on March 26th from 9AM until 7 PM (CT) at the Valparaiso University Harre Union. We will be featuring 9 speakers from various aspects of the meteorology field such as operations, data science, research, space weather, and many more. (Click on the Previous Conferences tab for images from the last GLMC.)
Registration will be $60, and it comes with 3 meals, coffee, and giveaways. Cash, check, or card will be accepted, with card accepted through PayPal.
ATTENTION: Price for registration for GLMC 2022 will increase from $60 to $80 on March 21st! The deadline for applications for Poster Session and Presentations is March 14th!
GLMC 2022 Poster Session Application
The theme for this year's conference is "All Around the Rainbow."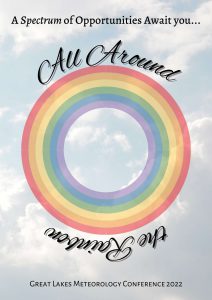 * Please note that you have to input the correct amount once you click on this link. It will then lead you through to the payment submission. The current amount due for registration is $60, please put your name in the description.