2021 GLMC to AMS Speaker Series
Due to the COVID-19 pandemic, the 2021 Great Lakes Meteorology Conference was cancelled. In its place, the first AMS Speaker Series was introduced to the department.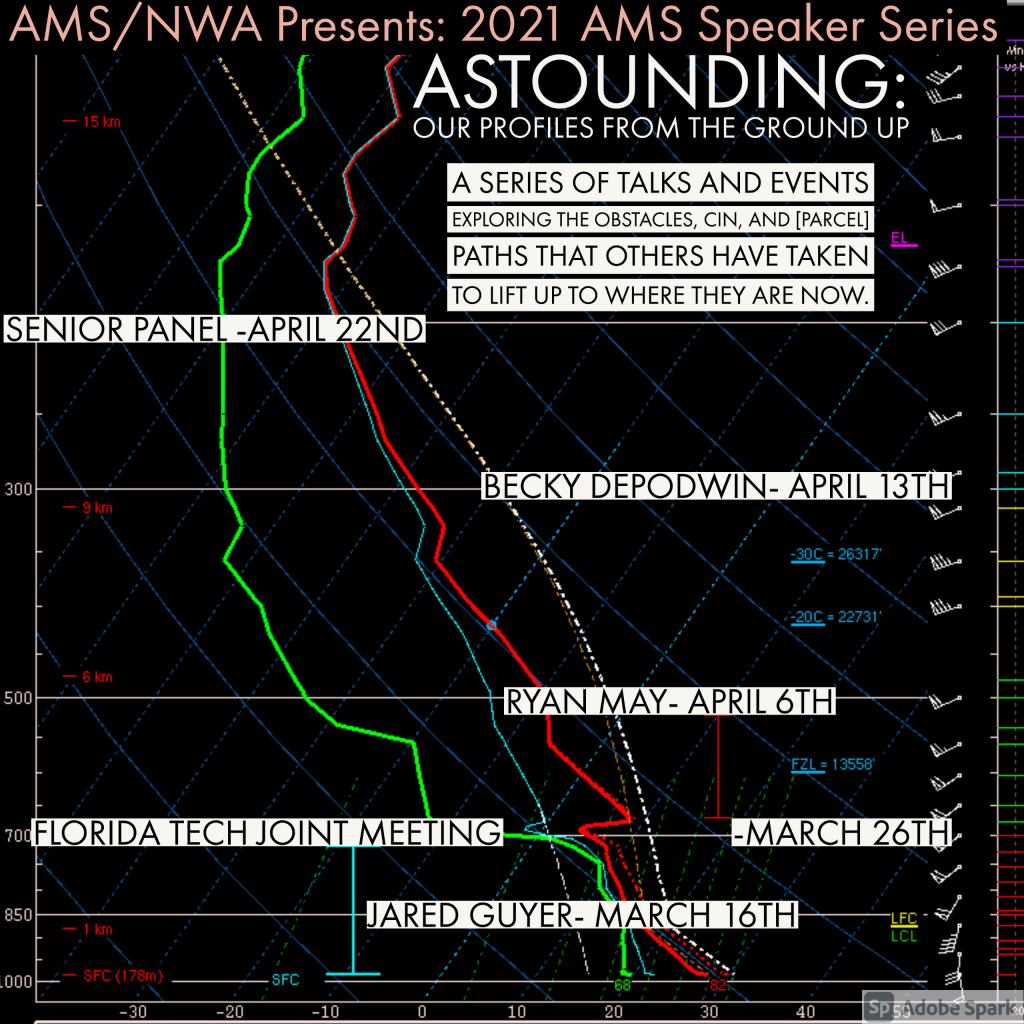 The theme for the AMS Speaker Series was "Astounding: Our Profiles from the Ground Up," with Skew-T terminologies incorporated into the theme. As meteorology students, there can be moments of self-doubt and worry. For severe weather fans, it is important to have our parcel of air rise, The following speakers took this theme to heart and shared with us how they overcame moments of doubt (CIN) and rose to become to meteorologists they are today (CAPE).
This event included virtual speakers, Jared Guyer from SPC, Ryan May from UCAR, and Becky Depodwin from AccuWeather.
Here is Jared Guyer's talk:
There was a joint virtual meeting with the Florida Tech chapter that included trivia, pictionary, and other online games!
Here is Ryan May's talk:
There were no pictures from Becky Depodwin's talk. If you are interested in listening to her journey in the meteorology field, here is the recording!
The final event was the senior panel which included 10 members of the senior class to talk about their time at Valparaiso University and any advice to the underclassmen.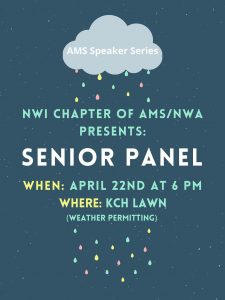 Thank you to the following seniors who were able to make this possible: Brennan, Jacob, Nate, Sophia, Grace, Rachel, Melanie, Heather, Sam, and Eric!
Thank you to those who were able to attend the events for the AMS Speaker Series. The 2021-2022 AMS/NWA executive board hope to bring back the Great Lakes Meteorology Conference for the next academic year. The tentative date is March 26, 2022 and more details are to follow.