The 2022 Great Lakes Meteorology Conference took place on March 26th, 2022 at Valparaiso University's Harre Union Ballrooms. A variety of speakers gave students a diverse view of opportunities in the atmospheric sciences, with talks from professors, military, emergency management, and many more! (Click on this link  to see the previous year's GLMC.)
The theme for this conference was "All Around the Rainbow."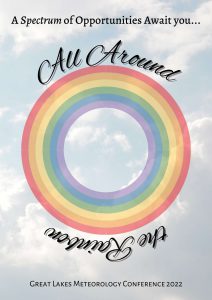 For GLMC 2022, our list of speakers included:
John Gordon (Meteorologist in Charge at the National Weather Service in Louisville, KY)
Jody Pradelski (Emergency Management and Business Continuity Manager at University of Chicago)
Shawn Dahl (Forecaster at Space Weather Prediction Center)
Lynnette Grant (Broadcast Meteorologist in South Bend, IN)

Cameron Nixon (

PhD Candidate at Central Michigan University)

Dr. Bart Wolf and Andrew Blackford ('22) (Valparaiso University)
Dr. Craig Clark and his Lake Effect Research class (Valparaiso University)
Katie Giannecchini (Met Data Scientist at SDG&E (Fire Science & Climate Adaptation))
Karin Gleason (Meteorologist at NCEI Climatic Science and Services Division)
Lt Col Eric Mueller (Director of Global Weather Operations 618th Air Operations Center)
Our keynote speaker for GLMC 2022 was Bart Adrian from the University of Wisconsin in Milwaukee. Thank you to all of our speakers for their excellent talks!
The next GLMC will take place on April 22nd, 2023 in the Harre Union Ballrooms. Please check back for more information closer to the event!