This post was written by Tom Abbott, studying in China this summer.
For the last stretch of the trip, we took the high speed train from Hangzhou to Beijing. The bullet train was really something to actually see in person. We traveled at about 300 km/h, which had us arriving in Beijing about 5 hours later. The ride was really smooth!
Our first stop after arriving in Beijing was to see the Temple of Heaven. The Temple of Heaven is actually much more than just a temple. It is surrounded by a huge park and other great monuments. There were tons of people relaxing and playing games with others in the park and temple area. The temple itself was quite large and serves as a great spot for wedding pictures (three couples were there at the time we were).
The next day was the Great Wall. Often times you will hear people say that they have "walked" the Great Wall.
This can be deceiving, however, because the part of the wall we visited was located in a very hilly area and I would call it more of hiking or climbing the Great Wall instead of walking it. The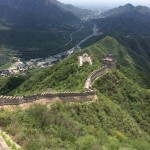 views from the wall were spectacular and it was a warm day with very clear skies. The part of the wall we went to was about an hour from our hotel in the downtown area and we spent at least 2 hours climbing the wall.
For the time we were in Beijing the skies were actually really clear and the air did not feel like it was extremely polluted, as many people assume. Actually, the skies in Beijing were the clearest that I saw in all of my time in China.
The last day of activities was spent at the Forbidden City. The shear size of the Forbidden City was unbelievable! We walked through the whole thing and it took us close to two and a half hours. There is something like 8000 different rooms in the city and we got to see the political buildings as well as the halls for celebration. The Forbidden City served as the living quarters of many emperors but now it has been turned into a museum.
Beijing was one of the coolest cities for me in China because there is so much history, yet it is also quite modern. It was a mix of all the other cities we saw all out into one.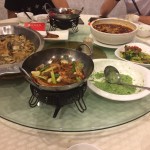 The night life in Beijing was also quite superb as well. There were numerous night markets and food markets that Valpo students checked out and found to be satisfying.
Writing this final blog after having already landed and arrived home, there are definitely some last things I would like to say about China. First, although it feels great to be home, I already miss China and the people I met there and the things I saw even though I have not yet been home for one full day! I am already thinking about when I could go back again.
The thing I will miss most will be how affordable everything was, especially food and transportation. I ate a good sized breakfast every morning for less than $2 and took a cab home from work everyday which normally came to about $1 when split three ways. I always felt safe in China as well. I think this feeling was shared by all of the students there, even with the ones that were not able to converse with the people of China.
This experience has been one that I will definitely never forget and it has shaped me in so many different ways, as well as given me the opportunity to meet and get to know some great people. I am forever grateful for Valparaiso University for offering this trip and for all of those who have helped me to make going to China for a month possible!