Author: Katarina Modrich
Location: Athens, Greece
Pronouns: She/Her/Hers
I have now been in Greece for three weeks. I am living with a wonderful Greek Family in Iraklion, Athens. This is a suburb outside of the main Center of Athens. In my first blog I would like to welcome you to read about my experience so far in Athens by sharing photos and a bit about my daily routine.
Every morning there is coffee and breakfast provided by my wonderful host mother, Anna. I attend classes in Pagrati which is a 50 minutes' commute from my homestay. Sometimes I am able to sit and read on the train and other times the train is packed with people and I listen to music or try to pick up some words that I have learned in my Modern Greek Class.
The best part of my commute is the walk from the train station to the school. I walk through the national garden which is a hidden gem for a nature lover like me. After getting off of a crowded train and walking through the busy streets in the center of Athens it's a breath of fresh air to stroll through the peaceful garden.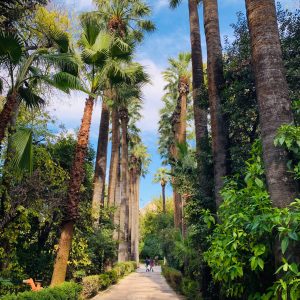 After I go to my classes I often go to a café with some of my classmates. The cafes in Greece welcome you to stay for as long as you want. You can order one coffee and work on your homework for the next 5 hours. This has been a very comforting part of my time here so far. The café near my school, called "Kekkos", serves coffee with some complimentary sweets and a glass of water.