Author: Casey Bremer
Location: Viña del Mar, Chile
Pronouns: She/Her/Hers
I've been in Chile for about a month now, and I absolutely love it! I live in a coastal town called Viña del Mar, which is about an hour and a half from the country's capital, Santiago. I live in a cozy home with just my host mother, who is an amazing cook and loves to tell me stories about her life. The house is a five-minute walk from the beach, and the sunsets are incredible, so I'm spending a lot of time there with new friends. Viña is full of interesting things to see and do, and I'm a 10-minute bus ride away from a nearby town called Valparaíso, which is another great city with endless culture and artistry. Last summer I spent 2 months volunteering in Valparaíso (through another great VU study abroad program), and I loved Chile so much that I wanted to spend a whole semester here!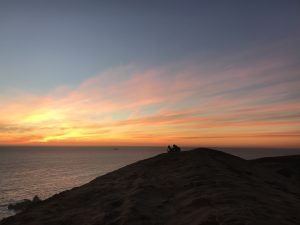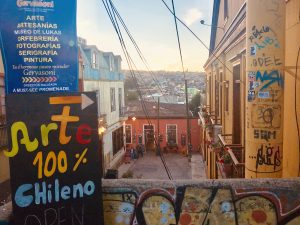 I've been spending a lot of my time with the other people in my program, who are from all over the world. I've gotten close to some students from Germany, France, Mexico, and so many other places. I joined the International Club at my university as well, which includes about 45 Chilean students and 100 foreign students. We get together often for excursions, like sand-boarding at the nearby dunes, hiking to the only waterfall in the region, and wine tasting in the Casablanca Valley. In addition, the club pairs up Chilean students with international students to learn more about the culture and to practice languages. A few days ago I walked around Viña with my Chilean "big brother", Normann, to take pictures at some iconic places around the town.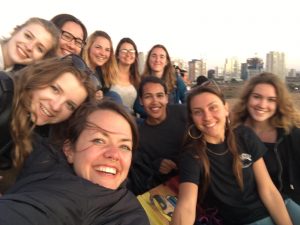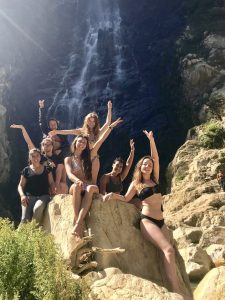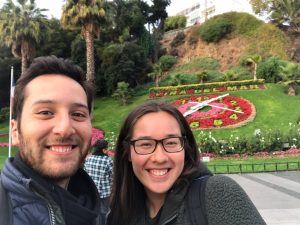 There are a lot of differences I've noticed between here and the US. For example, there are so many stray dogs running around! I'm definitely not complaining, because they are very friendly and love to come up to people for a pet. But it does get a little sad when it gets colder at night and the dogs don't have a warm home to sleep in. However, it's not all sad because I've noticed that Chileans give jackets, warm blankets, and food to the street dogs.
Another interesting difference I've noticed involves the people. The Chileans I have met are so much more than just friendly. In the US, people are nice, but Chileans go above and beyond. They go out of their way to help a stranger, try really hard to make you feel welcome and comfortable, and they absolutely love when a gringa tries to speak Spanish! And when a Chilean enters a room full of their friends, they make sure to greet every single person with a kiss on the cheek. They also make sure to say goodbye with a kiss to everyone individually as well. It was a bit of an unexpected shock to see how warm and friendly everyone was, especially with foreigners like me.
Overall, I'm loving my semester here so far. I'm learning a lot about the Chilean culture, improving my Spanish, and I have met so many interesting people. I also have a few trips planned, like to Patagonia in the south or to Argentina, and I'm looking forward to blogging about them throughout the semester and showing everyone what a great place this country is! Before coming here, many friends and family members told me that they didn't know much about Chile. They also warned me and said that it was unsafe or undeveloped, simply because it's in South America and there is a stigma or stereotype attached to the continent and its people. However, I'm looking forward to using this blog as a way to show people how great this country really is!