Author: Elisabeth Walters
Location: Barcelona, Spain
Pronouns: She/Her/Hers
While studying abroad, it is important to open yourself up to not only new cultures, but also to new and different people. In the beginning of my exchange semester, I had met a unique girl, named Clara, from Barcelona who was finishing her year in Reutlingen within a month into my semester there. I also met Neil and Ethan, who would be in Reutlingen during the duration of my semester. However, the first time I met these people, I never imagined that in three months I would be visiting Clara with these two other boys.
On Thanksgiving day, Ethan, Neil, and I traveled to Barcelona to meet up with Clara. We arrived late in Barcelona; however, that was perfect because in Barcelona they have a different eating schedule. They usually eat breakfast around 7am, a snack around 11am, lunch around 3pm, and finally dinner around 9 pm or later. Awaiting us at her place, Clara prepared us a Thanksgiving dinner and there we talked and caught up about the happenings in our life. Throughout Friday, Saturday, and Sunday, Clara showed us around the place she called home.
On Friday, she showed us the Arc de Triomf, Casa Batlló, La Pedrera-Casa Milà, the Barcelona Cathedral, and she took us to a churro shop. Clara had us try traditional Catalonian tapas and Spanish churros, both of which were phenomenal. While on Saturday she showed us sights from the beautiful old city of Barcelona, the Port of Barcelona, and took us to watch the sunset at the MUHBA Turó de la Rovira. Throughout that time, she continued to have us try traditional Spanish foods such as Paellas, in which, she taught us how to eat clams and shrimp properly. On our last full day, Clara took us to see the Basílica de la Sagrada Família, the Museu Nacional ďArt de Catalunya, and finally the Arenas de Barcelona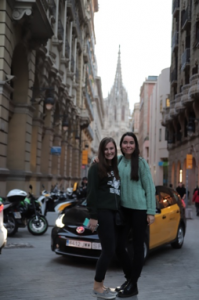 Although each day seemed different, they were actually really similar. Each day, we joked around, had meaningful conversations, and stayed up late into the night enjoying each other's company. We played games, visited the local Christmas market, talked about Spanish traditions and customs, and even had a movie night at Clara's apartment. On Monday morning, I was sad to leave Barcelona, not because I had to go back to school in Reutlingen, but because I was leaving my friend and a beautiful city with amazing memories.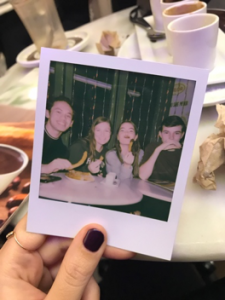 My time in Barcelona, however, is not valued by the sites I visited or even by the food I tasted. When I look back in a few years, I'll remember my time in Barcelona as the place where I made memories with my friends. Through my whole time abroad and specifically in Barcelona, I have realized that memories do not come from the sites you visit, but from the jokes and conversations that you had with the people you care for the most. Memories come from the friendships you build, and these memories are ones I will remember from my exchange semester abroad.