Author: Kate Mitchell
Location: Iwami, Iwami-Gun, Tottori, Japan
Pronouns: She/Her/Hers
I had never heard of Iwami until my friend, Katie, mentioned it to me. It was a small town in Tottori prefecture along the coastline. It was near a place I've always wanted to visit, Hokuei, but now close enough for me to know about. She wanted to visit the small town because it inspired the setting of one of her favorite anime, Free! For her, the trip was a pilgrimage through the locations in the anime. I had never seen it, so I felt like I had no reason to go, but then she told me that Iwami was also home to beaches, hidden shrines and a national geopark. Suddenly, my interest was peaked and decided that I wanted to tag along and go to the little town of Iwami. When I say little, I'm not exaggerating either. Japan is facing a depopulation problem and in Iwami, you can tell. Most people we passed by were elderly and we only saw a handful of young people during our day and a half stay there. There are only a few convenience stores which for Japan was extremely weird. I'm used to having three different convenience store chains in every direction I turn. Iwami was a very different place from where I lived in Hirakata.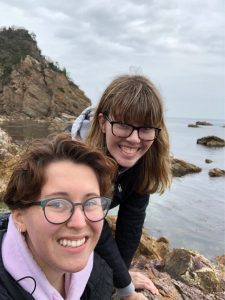 When studying abroad, it's important to go out and explore not just the culture you're living in, but also the environment. Iwami contains a UNESCO geopark which means it has protected areas of rocky cliffs and beaches which you can walk along for miles. Rocks jutted from the ocean, forming small islands for birds to relax on. Some of the rocks formed tall, craggy cliffs that I probably shouldn't have stood as close to as I did. The waves crashed across the rocks, creating some of the most picturesque photos I'd ever taken. Some areas of the geopark allowed you to walk along the beach and the rocks, which required a whole lot of stairs down to the beach. Katie and I climbed along the rocks into the sea to catch a glimpse of the fantastic view and hopefully some fish. While I didn't get to see any fish, the sights were stunning and we took plenty of pictures. However, I did cut my hand on the climb back, so when you're going exploring while studying abroad, always make sure to bring some band-aids and always go with a buddy. If something does happen, you want someone to be there in case you need help.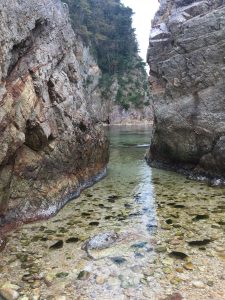 Over the course of the entire day, we walked 10 miles through rice fields, mountains and more. Another big tip I have for studying abroad is to bring a good pair of shoes. You'll find yourself doing a lot of walking because you can't stop exploring or you're too cheap to pay for transportation if you can walk instead. I fall into both of these categories, so I definitely get my exercise in every day. A good pair of shoes (and socks too) will keep your feet and body from hurting and help you get through the day. I recommend buying them before going abroad, so you can guarantee you get a pair that's the right size and style for your feet. Preparing little quality of life things like a good pair of shoes before you study abroad can really help the experience be a lot smoother, so you can spend more time having fun and less time with sore feet!