Author: Kate Mitchell
Location: Osaka, Japan
Pronouns: She/Her/Hers
Despite being from Chicago, I've never been a city person. I prefer quieter, suburban areas with less people, more nature and less noise. But once I came to Japan and visited Osaka, I quickly discovered it was the perfect city for me. Even though Osaka is a huge city, it never feels overcrowded or too busy. There are tons of little parks where anyone can stop to take a break and eat ice cream (something I've done probably too many times). The parks are especially beautiful during the cherry blossom season. There's a wide variety of restaurants and shops, so it's easy to spend the day out and about. Name brands are really popular here in Japan, so if you have expensive tastes, tracking down Apple, Gucci and other luxury goods is easy. But if you're a college student like me and prefer something more within your budget, there's plenty of family run restaurants serving traditional Osakan food like takoyaki or okonomiyaki along with small shops selling whatever you want to buy.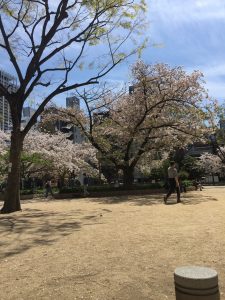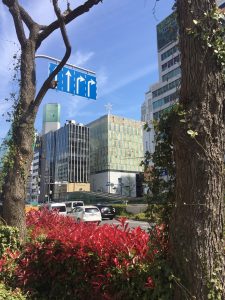 However, to me, the most important and defining quality of Osaka is the people's kindness. Throughout Japan, Osaka is known for being a warm and friendly city contrasted with Tokyo who is normally colder and more formal. I can say this is definitely true having visited both cities. Osakans always seem willing to help out and answer my questions (which I am eternally grateful for being a clumsy study abroad student who still struggles to read a map). On multiple occasions, I've had Osakans come up to me to ask questions about where I come from, what do I like about Japan and more simply because they were curious. The Osakan students at Kansai Gaidai University are the same way. So many students have come to talk to me to practice their English and help me with my Japanese. There were even Osakan or other Kansai students who came into my Japanese class to help us all practice our Japanese.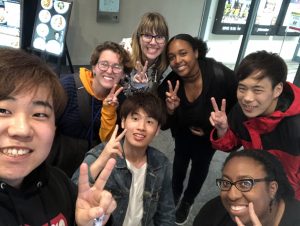 I think one of my favorite parts of Osaka is its dialect, Kansai-ben. Most of the Kansai area speaks with this dialect, but it's well-known for being associated with Osaka. Like English, Japanese has dialects. If I had to compare Kansai-ben to a dialect in English, it's something like a southern accent. There's lots of colloquial terms that replace the more common words used in standard Japanese. Verbs are formed slightly differently with Kansai-ben too, so understanding it can be difficult especially since they don't teach it in Japanese classes. Thankfully, my Japanese professor here taught us some Kansai-ben, so we can try it out with our Osakan friends. The dialect reflects the more friendly nature of Osaka and I think I prefer it to the standard Tokyo dialect even if I don't quite have Kansai-ben mastered yet.
I highly recommend visiting Osaka! Most people only see Kyoto and Tokyo during there trips to Japan, but you'd be missing out if you don't take the trip to Osaka!