Author: Alyssa (Aly) Brewer
Location: Windhoek, Namibia
Pronouns: She/Her/Hers
One of the biggest chapters of my life is coming to an end. Reflecting on my experience here, there were some important moments I would like to share with you. These are moments that changed how I view the world and how I view myself. These are moments of pure joy and raw uncomfortability. These are moments of subtle grandeur.
5. Waking up to watch the sunrise in the Namib Desert.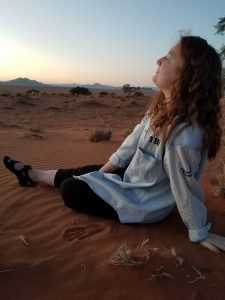 In the middle of the Namib Desert, with no technology, no alarm clock, no lights, I woke up a little before sunrise. It was bitterly cold and calm- and oh so peaceful. I walked up one of the nearby sand dunes and watched the sun peak over the mountains. Gold, pink, blue. The sky looked like painting. In this moment, I felt content. I felt no need to check Facebook or Snapchat. Nothing on my phone could ever compare to the beauty before me. Moving forward, I hope to wake up for more sunrises and give myself time in the morning to do nothing. In a time when we are constantly fed information through social media and text messages, it felt good to just be alone with my thoughts. I encourage everyone to take a few hours of your day to just sit and be present.
4. Surfing with my best friend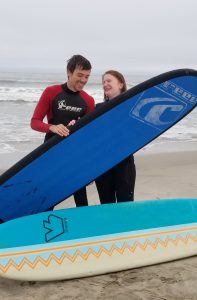 Throughout this trip, I have been blessed with the opportunity to check so items off my bucket list- one of them being surfing. Brennen, who is also from Valpo, shared the experience with me. While the water was freezing and the waves were relentless, I was proud of us being able to overcome the challenge. It may have taken us three hours and a few accentual gulps of sea water to get there, but we eventually rode the Atlantic waves. I have shared many great moments with Brennen- this will be an experience neither of us will forget.
3. Balcony Party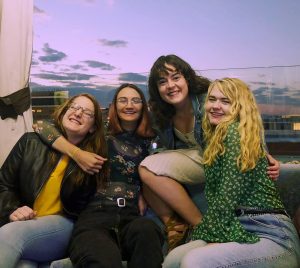 One of my favorite aspects of my time living in Windhoek was meeting new people. Some friends we met at Karaoke night invited us over to their balcony party. It was a great night of laughter, dancing, and enjoying the city view. Local Namibians are so welcoming and friendly- even though we were strangers at the party, it didn't feel that way. I hope to keep in contact with the people I met here- they have made my stay in Namibia all the worthwhile.
2. Interacting with CGEE staff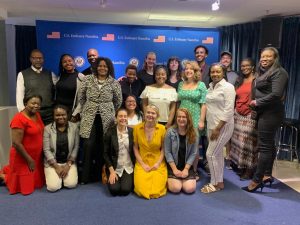 While I have talked a great deal about my experience with my study abroad friends and cohort, I often forget to mention the people that make this possible. I was blessed to be the student of Lamont Slater for Politics of Development, Albertina Shifotoka for History of Racism & Resistance in Southern Africa, Monika Shikongo for Environmentalism & Sustainability, and Alex Sikume for Internship Class. Throughout these classes, I learned about Namibia and South Africa's rich history and its connection to the United States. Not only the professors, but the support staff impacted my journey as well as Evelin, Sara, Passat & Donna. They were always full of smiles and deep wisdom. I am thankful for everyone who made this experience possible.
1. Dedicating the garden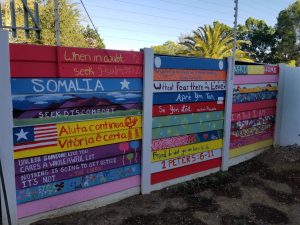 Throughout the semester, we students decided to create a garden. It was difficult- the dirt is dry and rocky- but it was so worth it. In addition to the garden, we decided to paint the posts above it- each with our own creative flare. Mine is Namibia's mountain scenery with the phrase "Seek Discomfort" on it. I got inspired from my favorite Youtubers Yes Theory that wholeheartedly believe in the idea. Throughout my journey here, I have sought a lot of discomfort so this phrase stuck with me. Not only that, but the whole collaboration just shows how diverse and creative our group is. Each person has greatly contributed to this beautiful group dynamic and I am blessed to be surrounded by such incredible
people.
Overall, I am grateful for my time in Southern Africa. I learned about topics never discussed in my classes in the states- such as apartheid. I overcame obstacles such as hiking up a rocky mountain to overlook the city. I embraced a culture both different and similar to my own. I made lifelong friends both in Namibia and throughout the cohort.
But now as I am packing to leave, I remember this is not goodbye- it is see you later.