Author: Maddie Morehead
Location: Windhoek, Namibia
Pronouns: She/Her/Hers
It has now been a little over a month since setting foot into our home here in Windhoek, Namibia, and two months since our journey in Southern Africa began back in August. As I reflect on everything I have experienced already, I am amazed at all the ways I have been challenged and changed; from meeting so many amazing people, to learning new ideas and unlearning programmed ideologies, to settling into the lifestyle of the people of Windhoek. I think the moment I realized that I had become settled into the community is when I was able to give directions to someone looking for the Roman Catholic Hospital, or maybe when I was able to tell the taxi driver where my destination was when he had no idea where to go, or maybe when local Namibians joined me and my friend on stage while we belted "Crazy in Love" by Beyonce at karaoke night. However it may look, over the past month, Windhoek has become home.
With each passing week new people, new opportunities and new experiences are presented to us, and I have learned throughout my time here to keep an open mind, say yes more times than no, and to be ever present with every experience. This past week, these experiences included attending Mr. Gay Namibia, a prestigious pageant show held for Windhoek's gay community; live music at an ice cream shop downtown; and a tour of my friend's township just outside Windhoek.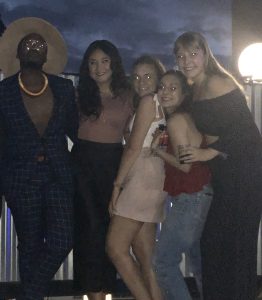 On Tuesday, my history class headed to Out-Right Namibia, a human rights based organization that works towards equality for the LGBTIQ community in Namibia. Namibia has a history of discrimination towards the LGBTIQ communiy. The first president of Namibia, Sam Nujoma who was president from 1990 to 2005, often gave hate speeches about this community, stating that lesbians and gays have no place in his country. There is also a current law in Namibia that prohibits men from having sex with other men and therefore denoting that gay activity is not welcome in Namibia. At Out-Right, we talked to the most gentle and kind-spirited human who is an advocate for the LGBTIQ community in Namibia and spends his time providing a welcoming environment and spreading awareness of sexual health for the community's members. It was here that we heard about the annual pageant show that was happening later that week, Mr. Gay Namibia. After our trip to Out-Right, we were able to speak to the first ever Mr. Gay Namibia of 2012 who shared his experience of coming out to his family and continuing to represent the LGBTIQ community in Namibia. It was incredible to see such a welcoming and supportive environment on Friday night for the men in Namibia who were brave enough to fully express themselves through fashion and their own sexual identity. It was also an amazing experience to be able to support this community at a local level.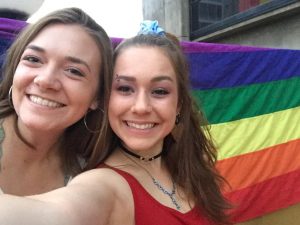 I was able to make many comparisons with the U.S. when talking to others about attending Mr. Gay Namibia. Some were supportive, but said that they themselves would not attend while others thought the idea of the pageant show to be funny. Although I was somewhat surprised, when thinking about it, these reactions do not seem too far off from some reactions I would receive back home. As an ally for this community I was able to support and have conversations with others that really opened my mind to the importance of supporting and defending a community that I, myself may not identify with and confront any misinformed ideologies that I myself may hold about that community.
At Mr. Gay Namibia, my friend talked to one of the performers who invited us to one of her shows later that weekend at Cramer's, a local ice cream shop in downtown Windhoek. The arts have been such a huge part of our experience since arriving in Windhoek. Almost everyone that we have met participates in some form of expression through art, whether it be through instruments, painting, sculpture, or song. As a musician myself I am able to really connect with people through their artistic expression. Music thrives in the young city of Windhoek, Namibia and it truly brings people together.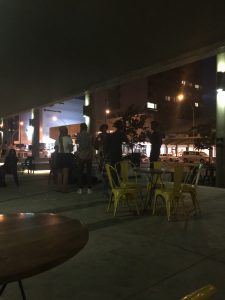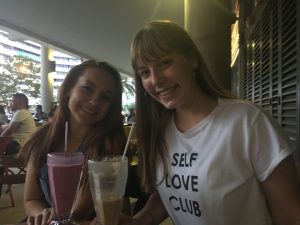 On Saturday, one of the friends I have made since coming to Windhoek invited me to his home in Katutura where he showed me his everyday life. Katutura is a large township of Windhoek with an interesting history behind it that might not be talked about in daily life. Katutura itself literally means 'the place where people do not want to live' in Herero, one of the native languages. In class we learned that many black people were forced out of their homes during the colonization period and placed in an underdeveloped, inaccessible part of Windhoek, further away from the center of the city. My classmates and I have heard many things about this specific township from the local people. People in Windhoek repeat a stereotype that Katutura is dangerous and that we should not go there. I have even heard people derogatorily refer to it as the 'ghetto', but as I spent time there with my friend I felt very safe and met many friendly people as he showed me around the town. We even stopped to buy hotdogs at a local hotdog place and I later got to meet the owner. Through my experiences, I have been able to establish my own perspective by spending time with local people and seeing how they live, and to me that is much more important than listening to another person's interpretation of a place. If I had listened to others' interpretations of specific places, such as many peoples' interpretation of Africa from the United States perspective, I may not have decided to study abroad in Namibia and I would have missed out on an amazing opportunity. I have loved every second of my time here.
I believe that one of the most important things to do when studying abroad is establishing a home by building a community in the place where you will be staying for the next four months, and that is exactly what I have attempted to do during my time in Windhoek. Making friends with local people, spending time with them, and attending events held in town has really helped me to feel at home and gain a better understanding of what life in Windhoek, Namibia is like. It has also allowed me to expand my learning of what we have been discussing in the classroom and gain a ground view of Windhoek, and how the history of colonization and political progress from independence are still evident and having effect today. With a little over a month left of my study abroad experience, I am excited to continue to build relationships with people and experience new opportunities that will broaden my horizons even more and expand my interpretation of life as a part of the Windhoek community.