Author: Gwyneth Hoeksema
Location: Windhoek, Namibia
Pronouns: She/Her/Hers
This past week was our Fall Break, in which we did not have any classes. Therefore, I tried to busy myself with things to do in the community. The most interesting and enjoyable part of the week was when some of us students went on a hike at Daan Viljoen Nature Reserve and when we went to the Independence Avenue block party. I enjoyed both events immensely and both made me feel closer and more connected with the community in Windhoek.
At the nature reserve, we were joined by some of the staff, which made it all the more fun. Daan Viljoen is a private nature reserve in which people can go camping and hiking. We were fortunate enough to see some of the wildlife that the park holds, including giraffe and baboons, while we were driving into the park. However, on the hike itself, we only saw baboons in the distance. We chose to walk the nine-kilometer trail, which proved to be rather grueling but very invigorating! It was a mountainous and rocky terrain which, at times, made everyone out of breath. However, accomplishing the challenge made the struggle, and getting up at 6:30 in the morning, all worth it. The amazing views of the surrounding mountains and the city of Windhoek in the valley below also made the hike worth it. While it was amazing to see the city spread out below, I also noticed a haze of smog surrounding the urban area. Being in a mountain valley and having very little rain often contributes to excessive smog. As we have learned in our environment class, Windhoek is one of the first cities in the world to turn gray and black water back into drinking water. This water reclamation solution is a fantastic example of how the city is working towards being more sustainable. However, the presence of the smog emphasizes how the city has more work to do to lessen air pollution. A possible solution to this would be to build bike paths in every neighborhood of the city. I have noticed that many people walk on the sidewalks already, but adding bike paths would be a safer, faster, and more sustainable way to get to work. This idea was also emphasized during the block party, in which many children and adults took advantage of the closed road by biking all around it. Overall, I enjoyed my walk through Daan Viljoen, and I would definitely do it again, as long as there was cloud cover.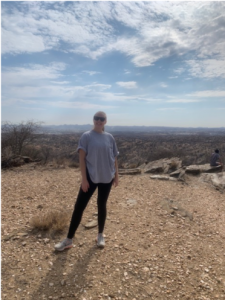 The block party on Independence Avenue on Saturday morning was also enjoyable. It was one of the first times in which I was truly comfortable being out and about in the city. I was more comfortable because the goal of the block party was to encourage a safe, neighborly space for children and families to enjoy. I thought that this was an interesting idea, and it sounded like community building has been difficult in the past, or people have not felt as safe as the city wants them to feel. I can see evidence of this in the lack of parks and open spaces for children to play in and around the city, which understandably limits the ability of families to go places. Events, like the block party, are also few and far between which decreases the ability of families to be present in the community. The block party was an example of how welcoming the city can be for families, holding the possibility of future developments that will be more family friendly. Some of the friendly and fun things to do included big bouncy castles, fun music and drummers, and many food and clothing vendors. There were also vendors passing out some free food, including some delicious smelling dumplings that I wish I had eaten. There were also adults and children riding bikes and scooters around and running up and down the closed off street. The many numbers of people biking up and down highlighted the fact that I have not seen any bike paths in the city. I realized how lucky I am to be able to bike up and down the sidewalks and nice flat bike paths of my hometown without fear of being hit by a car. The ability to exercise in a fun communal way is a blessing and a way to bring my family together, as we all like to go biking with each other. It seems as if the city has not spent very much on establishing safe spaces for families to use. One simple solution would be to establish bike paths that could also increase the city's environmental sustainability by lessening the amount of cars on the road. As I mentioned before, when I went to Daan Viljoen, there was a slight haze of fog over the city. Bike paths are also a fantastic way to reduce toxic smog commonly found above big cities.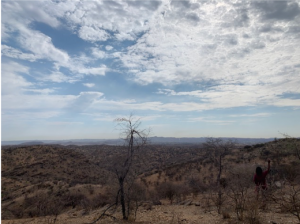 Although it was only one block of activities, it was very enjoyable, and I am glad I attended. Throughout my stay here, getting out in the community has been difficult because I have been nervous about safety. However, the hike through Daan Viljoen and especially the Independence Avenue block party made me feel much more comfortable with my surroundings. It was lovely to get out of the house and go see some children running around the city center. I have to repeat how I have not seen very many children around our house in Windhoek, or in the city center. It was a refreshing change of pace to see young families and brought the realization that the city does not have as many family friendly spaces as it should. If Windhoek were to build more parks, playgrounds, and open green spaces for kids to play it also might increase the safety of the city by making its residents feel more comfortable. I definitely think that the city should host another event like that soon.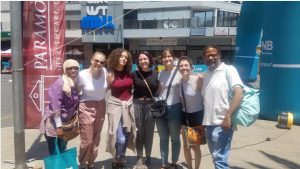 The weekend was very enjoyable and full of lots of community-based activities. These activities increased my comfortability with my surroundings and made the city that I am in much more familiar. Before this past weekend, my opinion of the city has been that it is filled with twenty-year old's and up. This is due to our house being right next to the Namibian University of Science and Technology, or NUST. I often see college students, but I almost never see families with their children. However, the high concentration of young people at the block party offered me a more realistic idea of the demographics of the city. It also made me understand that the reason I don't see many young families is because there are not spaces that those demographics can enjoy, there are not many parks or recreation areas for children to safely play. I truly enjoyed the weekend, and hopefully the city hosts more events like this before I leave Namibia.