Author: Alyssa Brewer
Location: Eludini outside of Eastern Cape, South Africa
Pronouns: She/Her/Hers
So today we visited Eludini, a small village tucked between mountains outside of the Eastern Cape. Even though we were only visitors for a day and a half, I learned and loved so much throughout this experience. The city life was exciting and new but there is something enchanting about Eludini. The towering buildings can never compare to the insurmountable beauty of the towering mountains. Grey sidewalks can never feel as comforting as green grass does under your feet. And the night sky takes on a different hue when no other light competes with it.
After breakfast, we embarked on a three-hour bus ride cozied up next to each other, silently sweating all the while. The air blasting through the windows was hot and dry. The drive was bumpy, jolting us left and right. But all these miniature frustrations made the destination worthwhile. Once we arrived, we couldn't help but just sink into the recycled tire seats and gaze upon nature's wonders.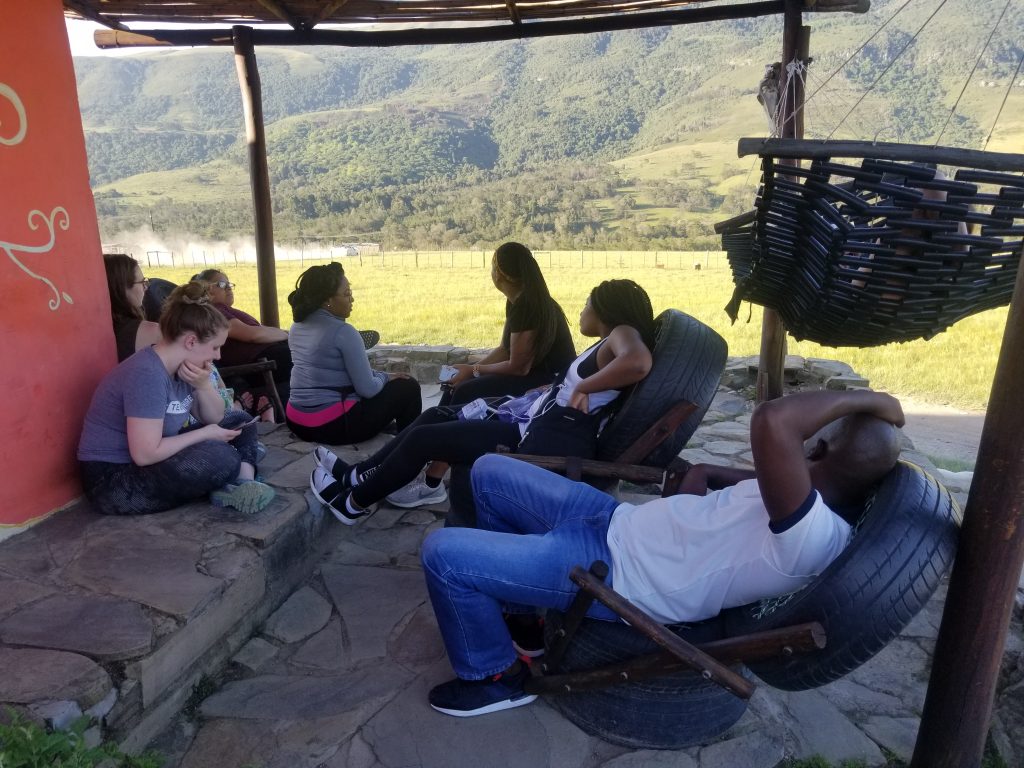 There is something absolutely breathtaking about being surrounded by walls of lush green. Even though Johannesburg was amazing, the change of scenery felt like a breath of fresh air- quite literally. For me, the best part of it was the culture. Because Eludini was somewhat isolated in the mountains, everyone knew everyone. There was no urgency. People relied on rainwater, vegetables grown in gardens, and goats and cattle roaming about. The atmosphere was peaceful and inviting. Ours hosts were especially welcoming and prepared a gorgeous feast for us that night. My stomach and my heart were quite happy.
So, after we let the food settle in, we decided to carry on the program's tradition of trekking up the mountain to watch the sunset. It was hot and sticky on the way up but the beauty washed away our discomfort. The view was…breathtaking to say the least- there is nothing like a multitude of colors painted across the sky.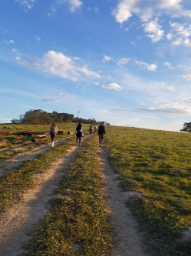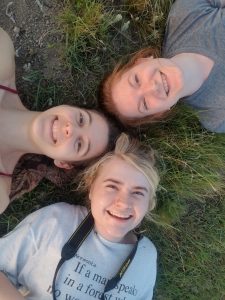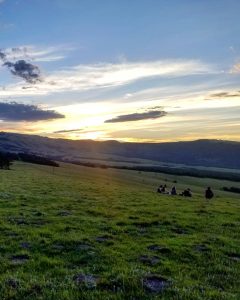 The middle picture depicts Clare (left), Ava (center), and myself (right) laying down partly due to exhaustion but also to appreciate the sky above. We couldn't help but reflect on all that we witnessed. This was one of the first times throughout the program when we could just sit back and enjoy the moment. At the beginning, we were overwhelmed with information and always on the move- there were so many sights to see and so little time to do so. However, at this present moment, we didn't have to be anywhere or do anything- we could just be.
After the sun died down, we headed back down to prepare for the night in our grass-roofed cabins. We relied on kerosene lamps for sight which was a first for me. While it might have seemed inconvenient to not have cellar data or electricity, it felt like a great relief. We were completely off the grid- we were just present. So after one of the best night sleeps of my life, we got up early to start our day. It was barely 9am and I was already sweating buckets- I guess I picked the wrong day to wear grey. After what seemed like hours of walking in the heat (it was probably 30 minutes to be honest), we met up with a wonderful woman full of life and laughter. She took us into her kitchen to teach us how to  make bread from scratch. We followed her instructions, kneaded the dough, and waited for it to rise. But our task wasn't over yet- we needed to gather firewood to cook the bread. All of us sighed when we saw how far down the forest was. The heat weighed down on our spirits but none of us gave up. We picked up as many sticks/branches as we could, attempted to place them on our heads, and carefully wobbled back up the mountain. It was a challenge, but I am proud that I accomplished it!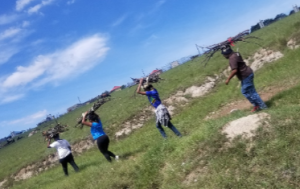 Next, we molded our dough into little biscuits and marked which ones were ours. Mine had a snowflake like design to it. With the coals created from the fire we started with firewood, we were able to bake our bread. It might have taken us half a day for the whole process, but it was so worth it in the end. Not only did we get to eat our delicious creations, we learned a valuable skill to carry on after this program. The woman full of smiles asked me if I enjoyed the experience- I couldn't help but reciprocate her smile as well. I explained that while it was a bit challenging, I thoroughly enjoyed the day with her. I even bragged that when I return home, I can't wait to show my family what I learned. She was so patient and accommodating with our group the whole day. I appreciated her welcoming energy and strong personality- she has and will continue to be an inspiration for me. Sadly, I never caught her name but her smiling face will be forever engrained in my memory. Even though visiting Eludini was a short-lived experience, it had an impact on me nonetheless. Thank you for following me along this journey. Part 3 in South Africa coming soon!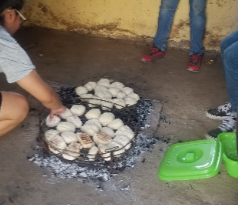 As always, keep on keepin' on,
-Aly