Recently one of my best friends from home, Cora, came to visit me here! She and her boyfriend, Brian, are both studying abroad this semester and they decided to meet in Paris for a long weekend. I made plans to meet Brian at his train station and help him surprise Cora by picking her up at the airport, as she wasn't expecting him to get in until the next day. So, I met Brian and we started headed across the city to meet Cora at the shuttle station. (A word of warning, when flying Ryan Air, be prepared to fly into out of the way airports. Example: Paris-Beauvais is NOT in Paris, and there is not a cheap way to get to the city from Beauvais.) Cora's shuttle from the airport was over an hour late, despite the website's guarantee that shuttles ran every 20 minutes from the airport. Honestly, we should have known better, this is France after all, mais c'est pas grave. Luckily, Brian grew up in West Africa, and just so happens to be fluent in french, so he figured out what was going on. When Cora finally arrived she was shocked and a little flustered from all the confusion of her trip but almost as happy to see us as we were to see her. On the way back to Cergy she told us all about the issues she'd dealt with flying in from Italy, which is apparently just as disorganized as France.
The rest of that night and all of Friday were spent catching up. I had class on Friday, so after I showed them the village and the village bakery, where Cora had her first real french pastry (!!), I gave them some destination options and sent them exploring for the afternoon. Cora is an art major, so when she heard that Auvers sur Oise, the town where Van Gogh is buried and spent the last years of his life, is just a few miles from Cergy she was pretty excited. So, the ever prepared and brilliant Brian found a map, figured out how to get there, and packed water and snacks. I had gone there earlier in the semester and told them it was about a 45 minute walk along the river. They set off, cameras in tow, and were gone for some time. About 5 hours later they returned, absolutely exhausted, telling me it was actually a two hour walk to Auvers sur Oise. Woops.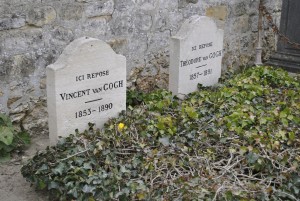 The next day we woke up bright and early, grabbed our friend Kody from upstairs, and headed to Paris. Neither Cora nor Brian knew too much about the city, but Cora knew she wanted to see the Louvre. I threw out a few more suggestions to them, and we finally settled on an itinerary:
-Louvre/Tuileries
-Notre Dame/Shakespeare & Co.
– Jardin Luxembourg
-Catacombs
-Eiffel Tower
-Père Lachaise
-Montmartre
These are, in my mind, the absolute, must-see spots in Paris. Unfortunately, as we found out later, there's just no way to see them all in one day. This is at best a two day itinerary.
The Louvre was our first stop. We tried to get there early to avoid crowds, but avoiding tourist crowds on a Saturday at a world famous art museum just isn't a possibility. Nevertheless, we managed quite well and spent 3 hours walking around just a few hallways so Cora could see some of the more famous works.
This was only my second time to the museum, so we saw many of the things I saw the first time: the Mona Lisa, Venus de Milo, and various pieces by Michelangelo, Vermeer, Rembrandt, and El Greco. As amazing as seeing all of these things is, I think the most fascinating thing about the Louvre is watching the tourists swarming around. We had several run-ins with picture-taking zombie tour groups of every nationality, and after losing Cora, then finding her again, we finally emerged into the courtyard of the palace into the Tuileries gardens.
By this time, Cora and Brian, who hadn't had a chance to fully recover from their walk and travels from the last two days, were absolutely exhausted. But I dragged them through the gardens which were really in bloom for the first time of the year. It was just gorgeous! The fountains had been turned on, flowers were in full bloom, and people were everywhere, lounging by the water, lingering in the mazes, sailing toy boats – it was fantastic.
It was at this point, noticing the time, and seeing how far behind us Cora and Brian were lagging, that Kody and I realized we weren't going to be able to see everything we'd planned on that day. Instead, we decided to make it to the catacombs before the line got too long there, and then to head over to the Eiffel tower. So, dragging Cora along behind us, we cut out of the gardens to the nearest metro, and headed over to Montparnasse neighborhood to the entrance to the Catacombs.
A rather creepy man at the end of a rather creepy tunnel
Now, let me tell you, my information in my last post concerning the catacombs wasn't correct. These aren't Roman catacombs, but instead, these underground tunnels began as quarries.
Sometime in the 18th century, after a disease outbreak due to a mass grave in another part of the city, it was decided that the bodies in the grave would be transported to the quarries and buried underground. The remains were carted through the city accompanied by priests swinging incense and chanting the last rites.
Later, bodies from several other cemeteries throughout Paris were moved to what is now known as the catacombs. It was opened as a tourist sight in the 19th century, and today, as I was very creepily informed by a guard while looking at a pile of skulls in the ossuary, 6 million people are buried, or rather stacked, in the catacombs. As creepy as it sounds, and it is creepy, this is definitely a must-see, but I'd go during the spring so that when you come up from underground, you walk out to find birds chirping and the sun shining rather than cold and darkness. You'll need a bit of a pick-me-up afterwards.
The mile long trail, and the 87 steep, winding steps leading out of the catacombs nearly finished Cora and Brian off. So, when we emerged, we stopped at a nearby market to get fruit for a picnic we were planning under the Eiffel Tower. Then we jumped on the metro and headed towards that symbol of all things beautiful in the world, making just a short detour to grab some baguettes from a nearby bakery.
It seemed like the rest of the city had the same idea we did, but it didn't matter, it was gorgeous out. We had our picnic of bread, cheese, sausage, apples, and wine and laid in the sun talking for hours. Brian and Kody noticed a group playing frisbee and went over to join, while I napped and Cora caught up with her friend, Grace, who had come to meet us. It was just the thing we needed to recharge. And even though I don't think I could think of a more cliché experience than eating cheese and drinking wine on the champs de mars under the eiffel tower, I can't help but think that it's cliché for a reason. It was easily one of the best times I've had in the city.
As the sun started to go down, Kody and I realized that there was only one place in Paris where we could see the sunset  that could live up to those last few hours laying in the sun. We rallied Cora and Brian, said goodbye to Grace, and raced to Montmartre to make it in time for the sunset. I assured Cora, again and again, that the walk up the steep hill would be worth it, but I don't think she needed convincing at that point.
The way up the hill seemed to be lined with more street performers than usual, and the charm of Montmartre was really in full swing. My friend Ali, who is also a Valpo student studying abroad with the Boston program in Paris this semester (you can check out her blog here), met us at the basilica. After watching a dance troupe perform, we turned around to watch the sun set over the most breathtaking view in Paris. That's when Brian had a great idea, he pulled a jar of nutella, a bag of crepes, and a knife out of his backpack, and started passing the delicious little things around. Now, these weren't properly served, and the bottle of wine he pulled out his bag a few seconds later wasn't of the best quality, and yes, we were speaking english, but there really couldn't have been a better way to end the day. We stood there talking, laughing, eating, and drinking for quite some time, not wanting the day to end and definitely not wanting to say goodbye. The Eiffel tower lit up behind us, sparkling from the other side of the city. We took one last look and headed down the hill to start the trip back to Cergy so Cora and Brian could get an earlystart home the next day.