Hello all! So I haven't posted in a while. I've really wanted to post about Melbourne a while ago, so I am going to write about it now so it doesn't get prolonged any longer!
The weekend before Halloween I went to Melbourne with a girl named Julie. We only had one thing booked before we left, which was a night ghost tour of the Old Melbourne Gaol. We weren't really sure what all to expect of Melbourne so we were just betting on staying in a centrally located hostel so we could explore the city. Getting there, we flew out of the Gold Coast on a Thursday afternoon which took us straight to Melbourne. Tip, make sure you go to the right Melbourne airport, the one that is closest to the city. We then took the Skybus to the city, which was about a 25 minute drive but costing $18 dollars both ways from the airport. Although $18 did seem like a lot for public transportation, taking a taxi, uber, or any other sort of transportation would have been a lot more expensive. The bus took us right to the city and the walk after was only like 20-25 minute walk. Apparently, they had hotel and hostel transfers at the bus stop but no one would clearly tell us how to do that so we just decided to walk. When we got to the hostel it was weird because we thought we requested the same room but apparently we have to book together to stay in the same room. We thought we had both booked into the same room of 18 beds. A guest ended up leaving so they let us stay in the same room together. We found out later that this hostel isn't the best one to stay at. It didn't matter though because we picked the cheapest one, which meant sharing a room with 17 other people. The room was not the cleanest, smelled like dirty socks, and talking to other guests at the hostel they didn't seem to be on top of cleaning the linen. They said they were low on housekeeping but there management did not seem to be on top of their jobs. We met some really cool girls from other international places who were working and traveling there. They had been living in the hostel for about a couple of weeks. I do not know how they can live in a hostel for that long of a period, I don't think I could do that. The hostel experience is one that should be experienced though. The one hostel I stayed at in Sydney, The YHA on the Rocks was pretty nice! Bottom line, there are good and bad hostel experiences.
On Thursday got to thinking how we were going to get on a Great Ocean Road tour, so we started researching that night. The next morning we headed to the Victoria State Library, which is very nice! The website wasn't working well on mobile devices for the Great Ocean Road tour so that is why we headed to the library to book it on a computer (and they had free wifi). We booked a tour for the next day but ended up having to call them anyways. After that we ended up exploring the museum in the library and continued being tourists in the city.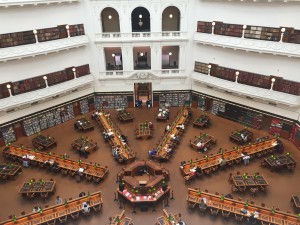 Later that night we went to the Old Melbourne Gaol ghost tour. It was really cold out that night as we waited for them to open the doors of the jail. The tour was interesting, the tour guide was an actor who did a really good job. The tour was completely in the dark with just a candle later that the tour guide held. There were three floors, all with cells. The whole tour group fit into one of the biggest cells, which was about 40 people standing in there. We also got to see where they hung Ned Kelly, a famous convict that they talked about in the tour, while I also learned a little bit about him in my Australian History class.  They hung many convicts in the jail as well as slashed them on this triangle looking seat caddy corner of it. After the tour was over we got to explore the jail with the lights on. They had lots of interesting exhibits, stories, and facts about life and the people that lived in the jail.
On Saturday we woke up early to start our long day of adventure on the Great Ocean Road tour. We had to drive a little ways to get the ocean but we made several stops along the way at lookouts, a park where there were koalas and colorful birds, had some pizza for lunch at Apollo Bay, walked in a rainforest, saw Loch Ard Gorge, and last but not least the famous 12 apostles. Fun fact there aren't 12 and there were never 12 apostles. There were originally 8 and now there are 7. The sites were beautifully and a bit chilly but decent weather for the most part. We met a girl a few years older than us on the tour who is traveling Australia who is from Canada. She is traveling for several months. She says she saves up and then when she has enough money to travel she leaves. She was very friendly and we took lots of selfies on her GoPro haha. Melbourne is south of the Gold Coast, so that means it's most likely to be colder. That's not always the case though, apparently the weekend before I was there it was scorching hot. I was wearing long sleeves though and still walking on the beach. 🙂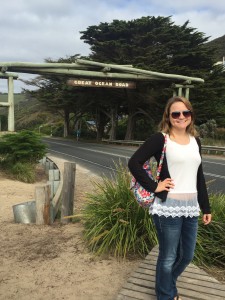 Well tomorrow I skydive, hopefully the weather cooperates.
Write to you all after my 14,000 meter jump out of plane.
Bye for now,
Emily