Author: Maia Moore
Program: Hangzhou Study Center – China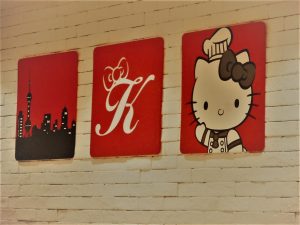 How many people can say that they've been to a Hello Kitty themed restaurant? Well, I don't know the answer to that one, but I do know that I can say that I am now one of those people. I'll admit without shame that I, a 20-year-old college junior, am a fan of Hello Kitty. Maybe even a huge fan, but that's beside the point. The Hello Kitty Bianco Bistro in Shanghai is truly one of a kind.  Even non-fans should take the opportunity to visit this restaurant if they can simply because it's weird and fun and they even sell steak with Hello Kitty's face on it.
The restaurant is located on the top floor of one of the 6 trillion malls in Shanghai. It was actually a bit hard to find since they don't seem to advertise it much. The only reason I found out about it is because I had heard of a Hello Kitty theme park located on the outskirts of Shanghai and, after I read the scathing reviews for it, decided that it was probably better to check out the restaurant instead.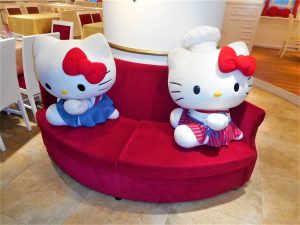 Somehow, I was able to convince my entire Valpo group to come along with me (because who wouldn't want to eat overpriced Hello Kitty pasta?). The restaurant was composed of two floors. The first floor was a gift shop that I later spent a solid 30 minutes in (and came out the proud owner of a limited edition Hello Kitty blanket). The second floor was the actually restaurant. The walls were covered in Hello Kitty, the tables and chairs were Hello Kitty, there was a Hello Kitty couch, and the waiters had Hello Kitty apparel. We were the youngest people there. Everyone else were men and women who appeared to be middle aged, with no children. Hello Kitty seems to be universal.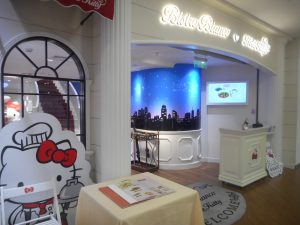 As for the actual food? Well, this isn't a review of the restaurant, so I won't go into detail about that, however, the menu was quite expansive and composed of nearly 60-70 different items. That day, they maybe had 15 available in the kitchen.
As a fan of Hello Kitty, I have to say I was 100% satisfied after a day of Hello Kitty.