Author: Liam Bodlak
Location: Germany/Denmark
I've been in Germany for about a month now, and it already sort of feels like home. My classes started today, and while being the only American in my Business Stats class is kind of weird, it's not too bad. I've been traveling a lot, meeting people from all sorts of different backgrounds, and learning a lot about Europe in general. I had a lot of time to do what I want given that I've only had two classes up until now, but even with a full course load my schedule isn't too terrible. Not speaking German has definitely been an issue, but I'm learning a little bit every day, and most people here speak a little bit of English anyways.
So far I've been to a number of places in Europe, both within and out of Germany. First, I was in Berlin for about a week, then I spent the weekend in Copenhagen. Both places were amazing, filled with culture, nightlife, and great people. Berlin especially has great historical significance. We went to a number of WW2 monuments, and the tone of it intrigued me greatly. As Americans, we have such a positive view of World War 2 because we won in just about every regard possible. The US benefited from that war more than anyone, and we're proud of that to this day. However, the Germans suffered the greatest defeat of the war, and the tone of their monuments reflect that. They're somber, reflective, and show a country that wants to move strongly forward without forgetting its dark past.
The Berlin Wall was also incredible. So much has been said about the wall, its significance, and its eventual tearing down. But one thing stood out to me when I was looking at the wall. There was a lot of graffiti on the wall, some of it political, some of it apolitical. One piece of graffiti stuck with me, however, and I still think about it now two weeks after leaving Berlin. The message reads " TO ASTRID, MAYBE SOMEDAY WE'LL BE TOGETHER ". It's not clear who wrote this, or when it was written. It's heartbreaking to imagine someone who misses someone else badly enough to get near the top of the wall and write a note that might not even reach its recipient. I figured that, with the amount of people who saw this message every day, and the far reach that social media has, that someone would have found the story behind it. However, doing research on the message just leads to tourists taking pictures of it. It sounds sentimental, and I doubt that any sort of conclusion will come on what happened to these people, but I can't help but wonder if the writer of this message ever found Astrid, and if that someday ever came.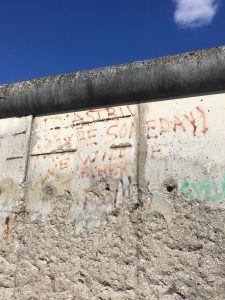 Then we went to Copenhagen, which was a fun experience even if it was only for two days. We marched with the Danish army through the streets for the changing of the guard, got lunch on the Nyhavn waterfront, and wound up bar hopping in the city for a little bit. We weren't there too long, but even so, I can honestly say that Copenhagen is one of the most aesthetically beautiful cities I've been to.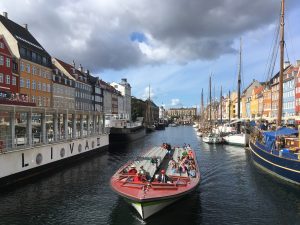 After a few days back in Reutlingen, we were back traveling again, this time to Leipzig. I honestly didn't expect Leipzig to be as much fun as Berlin given its size (Leipzig is slightly less populous than Milwaukee) but it's an amazing city. The nightlife was surprisingly great, every club we went to had great music and fun people, and the cities small size worked to our advantage, as everywhere we went was within walking distance. After Leipzig me and three friends went to Munich to partake in Oktoberfest for a day. It absolutely lived up to my expectations, the vibe there was like nothing I've ever experienced. The Scottish guys I hung out with there had been there for three days, and if I have the opportunity I definitely want to spend a week or so there. I had an amazing experience, but I feel like I barely scratched the surface of Munich Oktoberfest.
So, all in all, it's been a fun month. I'm looking forward to the rest of this semester, and all the traveling, experiences, and growth that comes with it. I'll be keeping this blog updated regularly, so hopefully you'll all be hearing from me again soon. Tschuss!