Author: Casey Bremer
Location: Torres del Paine National Park, Chile/El Calafate, Argentina
Pronouns: She/Her/Hers
In the very beginning of the semester, there was a week of classes that was not mandatory for the students. Since this was one of the only chances to travel for longer than a weekend, my friends and I decided to take advantage of the opportunity. Six girls and I planned a spontaneous trip to Patagonia, in the south of Chile and Argentina. We flew from Santiago to a southern city called Punta Arenas on Monday, then took a bus to Puerto Natales, which is the starting point for most people who want to hike in the National Park of Torres del Paine (the most well-known part of Patagonia). The next morning, we got up bright and early at 6am to go on a hike with the most well-known viewpoint in the park. It was the hardest thing I've ever done. It was mostly uphill, for over four hours, just to get there. However, it was well worth it. The views were incredible and since I was with great company, the hike was really fun.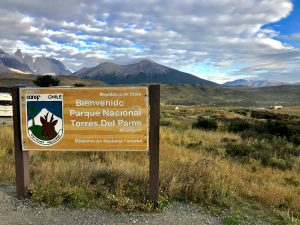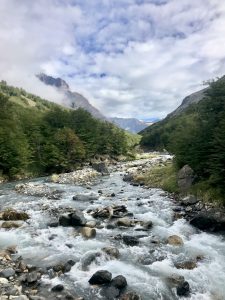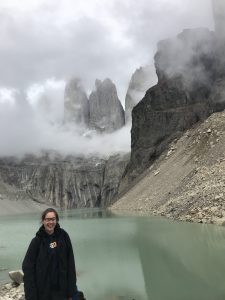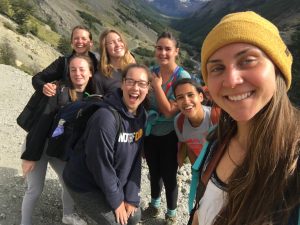 The next day, we decided to take it easy and go on a much more relaxed hike in the same national park. We passed beautiful lakes, and actually stumbled upon a herd of wild guanacos (a South American relative of the llama), who were so calm and let us sit in the middle of their pack for about 10 minutes! It was so calming to see the animals quietly grazing around us. Definitely unforgettable.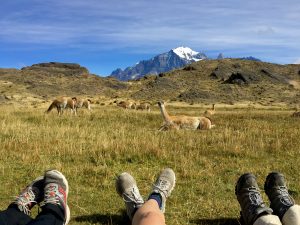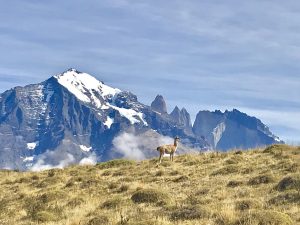 The next day, after two days of hiking around the park, my friends and I decided to take a road trip over to Argentina, to a town called El Calafate. It's pretty small, but very touristy because it's really close to another popular national park in Patagonia. We wanted to go there because there is a well-known glacier called Perito Moreno in the park. After driving for about five hours, we finally arrived at the glacier, and it was more than impressive. It took my breath away. It's one of the only glaciers in the world that is actually growing in size rather than decreasing, and scientists still haven't figured out why! The pure size of the glacier was incredible. The width is over three miles wide, and the average height is about 240 feet above the surface of the water. It was a bit strange, but we could also hear the sounds of the ice creaking and splashing into the lake. It was so blue that it looked like someone had photoshopped it. It was definitely one of the most awe-inspiring things I've seen in my life so far.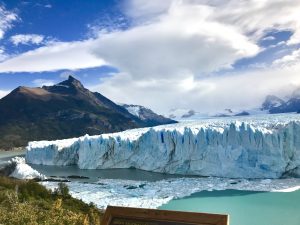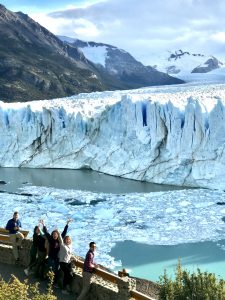 After the glacier, we left Argentina to drive back to Puerto Natales in Chile, then took a bus back to Punta Arenas to catch a flight to Santiago, then took another bus back to Viña. Incredibly, despite the many modes of transportation and the many hours in transit, we got back to our houses in Viña del Mar in time for our early classes on Monday. And although my friends and I were exhausted from a week of traveling, we all happily went to class the next day with nothing but good stories and cherished memories from the trip.
As I reflect on my week in the southernmost part of the world, I have realized how happy I am to be here for this semester in Chile. Before arriving, I was second-guessing my decision to study abroad for my last semester of college. Because I chose to be here, I can't walk across the stage at graduation, I'm missing my friends back at VU, and I can't partake in any of the traditional "second-semester senior" activities. But as I continue to think about those things that I'm missing in Indiana, I'm also thinking about the incredible experiences that I can only get here in Chile. Because I am here, I can sit in the middle of a herd of wild llamas, watch chunks of ice fall from one of the biggest glaciers in the world, and have met the wonderful girls I traveled with. So although I am missing out on some things in Indiana, I am more than happy that I chose to study abroad this semester because I am able to experience these once in a lifetime experiences. So for those students who might be hesitant or doubting a decision to study abroad, I would simply advise them to stop hesitating and take the leap. Studying abroad has been one of the best decisions of my life, and I really believe other students should experience it as well.