Author: Casey Bremer
Location: Mendoza, Argentina
Pronouns: She/Her/Hers
Happy Easter! Here in Chile, they don't celebrate a very huge, extravagant Holy Week/Semana Santa, like they do in some other Spanish-speaking countries (i.e. Spain or Mexico). Usually, Chileans just don't have work or classes on Good Friday. Most stores and restaurants are closed, and many Chileans take the long weekend to travel to a nearby city called Mendoza, across the border in Argentina. So I decided to follow the crowd and cross the border into Argentina for the weekend. I took a bus from Viña del Mar directly into Mendoza, which took about 11 hours, mostly because of the long line at the border crossing. However, I didn't mind because the way into Argentina is well-known as a very beautiful route- it curves right through the Andes and is surrounded by nature and giant mountains. During the bus ride, I actually got the chance to watch the sunrise in the Andes mountains, and it was one of the most beautiful things I've ever seen.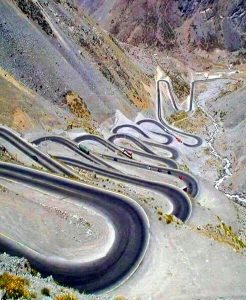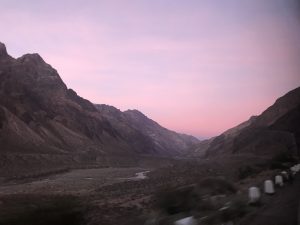 Once I got into Mendoza, I walked around the city and visited a few main attractions. I had a full day to myself before some friends from Chile were coming the next day. So I visited street markets and then walked around the giant city park (it has a zoo, a lake, two museums, an amphitheater, a country club, 34 sculptures, and so much more). I also met some really nice people at my hostel, and we all went out to dinner at a very popular restaurant in town called Fuente y Fonda. Our table consisted of two people from Mexico, two people from Argentina, three people from France, and me! We made a point to only speak Spanish at the table, and it was really satisfying to practice my language skills and see how much I've improved in just the short time I've been in Chile.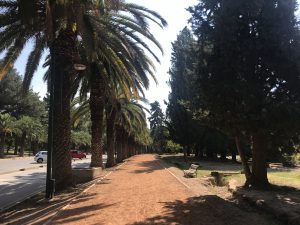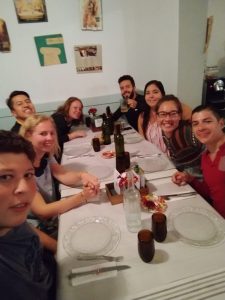 The next day was busy, although very enjoyable. Some friends from my program in Chile came to Mendoza, and we ended up taking a few tours around the city together. For the first, we went to thermal baths an hour outside of Mendoza, in the middle of the mountains. Although it was a holiday and full of people, the thermals were really relaxing and had some great views! The next tour that we took involved three vineyards and an olive oil factory. Mendoza is well-known for its high-quality, low-price wine (most specifically a red wine called Malbec), and most tourists actually come to the city just to visit the vineyards. And in addition to the great wine, Mendoza is also known for its really popular olive oil. We ended the day with a nice dinner at a fancy restaurant, because food in Argentina is super cheap compared to the US and Chile! Early the next morning we had to take an early bus to get back to Viña del Mar in time for Monday classes.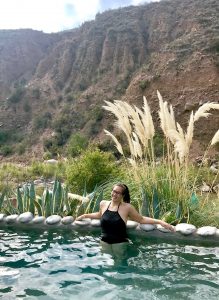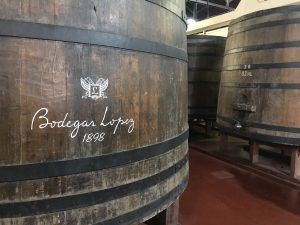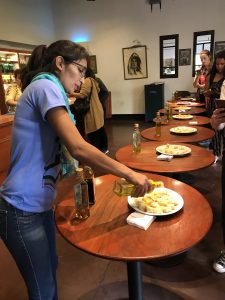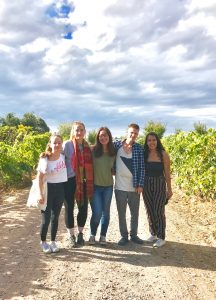 Throughout my weekend in Argentina, I was practicing my Spanish abilities and getting more comfortable with different accents. For example, I noticed that Argentinians use the verb tense "vos" instead of "tú," stress different syllables of their words, and also use a lot of the "sh" sound. In contrast, Chileans talk really fast, barely pronounce the ends of the words, and almost never pronounce the "d" or "s." As I'm improving in Spanish, I've gotten much better at distinguishing different accents, and as more time goes by in the semester, I fall more and more in love with the Spanish language in general. I love that I chose to come to Chile for my semester abroad, as opposed to England or Scotland, where I would speak the native language. Not only am I learning about different parts of the world during my semester abroad, but I'm also greatly improving my language skills. Overall, knowing a foreign language will always be a good thing, because it allows you to communicate with so many more people of the world. And in my opinion, studying abroad and being immersed in a new language is the best way to perfect your skills. If you want to get better in a foreign language, spend a semester immersed in it and by the end, you'll have improved so much! Even though it can be a challenge, spending the semester in Chile has been so worthwhile and incredibly beneficial for my language skills- I don't want to leave! I've already learned so much, and I can't wait to see how much better I get by the end of the semester.