Author: Elisabeth Walters
Location: Amsterdam, the Netherlands
Pronouns: She/Her/Hers
When traveling anywhere the most stressful time is often the beginning and the end of one's travels. For instance, when traveling to Amsterdam, our group of three girls faced a few situations in the beginning of our travels that we were not prepared for; however, we were able to work through the situations and still enjoy our time in Amsterdam.
We started our journey to Amsterdam from Hamburg, Germany at four in the morning on Friday to ensure seats on our train. Our first train ride went smoothly; however, our second train ride, that was supposed to go directly to the station Amsterdam Centraal, did not. During the beginning of our second train ride, we had snagged excellent seats in what we call the "fishbowl", or the seats within a separate compartment. However, we did not get to enjoy these seats due to the train needing to stop and everyone needing to exit. Although we asked several people what was happening with the train, we received no answers. Thus, we waited for around 40 minutes confused and starting to get hungry. After the seemingly long wait, we got word that we were going to board another train that would take us across the border to the Netherlands. This train would then take us directly to our desired station.
Once we arrived at Amsterdam Centraal Station, we then had to figure out how to exit the station. We observed from a distance how everybody was scanning their tickets and then leaving; however, we did not have normal tickets. Our tickets were German Rail Passes and they did not scan like a normal ticket. Thus, we had to ask the lady at the service desk how to go about leaving the station. The service lady then directed us to speak to one of the men in the red hats by the exit. From there, we did as the lady suggested and were able to exit the station.
After exiting the station, we then had to find transportation to get to our camping hostel because walking two hours with luggage was not an option we wanted to endure. In our attempts to avoid the walking, we were able to get an Uber; however, a few minutes after saying goodbye to the Uber driver we noticed that we were not at the correct destination. Our destination was still over an hour walk away and there was no public transit due to us being dropped off by a forest trail. With no other options for transportation, we began our long walk, with our luggage, to our hostel.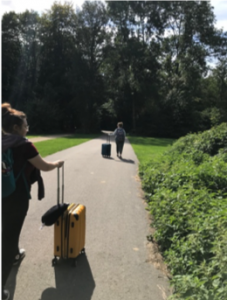 During our walk, we tried joking about how our easy day of travel had turned out to be a "great" experience that we could retell for years to come. Although our attempts at joking were feeble due to our tiredness and irritation with how the day went, they helped pass the time as we walked both through forest area and city streets. Thus, when arriving at our hostel after more than five miles of walking with our luggage, we were able to truly laugh.
After that first day of travel we still experienced some issues with transportation within Amsterdam. However, we were still able to visit places such as the Van Gogh Museum and the Anne Frank House, as well as enjoy what the city had to offer. Thus, I learned that our "great" experience was truly a great experience that I can relay and now laugh at for years to come. Also, that it was not the city of Amsterdam that made the experience worthwhile, but the challenges that our group conquered together.