Name: Carolyn Dilbeck
Location: London 
Hello! I'm Carolyn , a class of 2026 Communications major! I first heard about the London Stage spring break trip, from a friend of mine, and I knew it was an opportunity I needed to take advantage of. I have long had a passion for theatre, musical theatre in particular, and participated in many productions with my high school as well as CYT (Christian Youth Theatre). In fact, the friend who had mentioned it to me had been in several CYT shows with me, and also had the opportunity to go on this trip, which was so special, and definitely a full-circle moment for me. London had also been a travel destination on my bucket list for years, so I knew I could not pass up the chance to study one of my favorite subjects in the world in a place I had been wanting to visit for so long!
I was initially a bit intimidated, however, because I didn't know anyone else going besides my friend, and had never been to Europe before, or out of the country with my family, for that matter. However, Professor Lee Orchard, who was leading the trip and had done it many times, was very knowledgeable about the itinerary, which immediately helped put me at ease.  He had learned from his experiences with other groups and was able to tell us everything we needed to know beforehand, which made the process of preparing for the trip much easier and less stressful, for which I am very grateful. Additionally, all of us who attended the trip got to know one another fairly quickly and became a close-knit group by the end of it. Although we all came from different backgrounds and studied different subjects in school, we shared a passion for theatre and an enthusiasm for learning, which was really cool.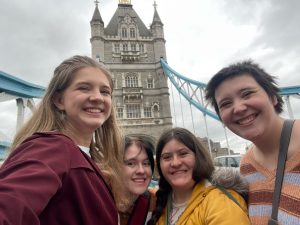 I have to say it may have been one of the most exhausting but exhilarating two weeks of my life! In London, we usually had class in the morning, where we discussed the show we were going to see that day. We were split into pairs, with each pair having to give a presentation on one of the shows. We saw ten of them during our time there! They ranged from adaptations of Greek tragedies to comedies like The Play That Goes Wrong, and everything in between! They were all of very good quality, but each was definitely a unique experience and gave us a lot to talk about in our discussions of the shows. Time was also built in to see many of the major historical and cultural sites as well, such as Westminster Abbey, the British Museum, and the National Gallery of Art.
Additionally, we had 4 days free for independent exploration in smaller groups, during which we could choose what we wanted to see. For example, I had the opportunity to visit St. Paul's Cathedral and the Tower of London, as well as to meet up with other Valpo students studying abroad in Cambridge! As much as we got to see, though, there were also many other things I wish I would have, so I would love to make it back someday. Overall, it was an incredible experience that I would recommend to those who are passionate about theatre, or the rich culture and history of London!