Upon arrival in London, it took us a total of three hours to find our hostel. Afterward I was soooo exhausted that I fell asleep. I woke up about an hour later and we decided that we wanted to go see a musical that night. The musical we decided on going to see was "Spamalot." Now this was not my first choice for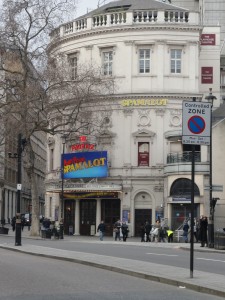 a musical, but I'm so glad that we went. We got amazing seats, so amazing that I believe when the man told us where we would be sitting if we bought the tickets, I immediately said "We'll take them," without even thinking about it. I am glad I decided to go, seeing as this was my first musical and all, it was a fantastic one to choose! I know, I know. It's surprising I haven't gone to other musicals yet, but at least I started with one that I deem A-M-A-Z-I-N-G!
During the musical I was laughing so hard because of the jokes that were being made and the way they portrayed the movie onto the stage. It was so cool, because the cast only had like twelve people in it, and so some people played multiple parts. I personally like smaller casts so this was enjoyable for me. It also didn't hurt that the actors had accents which made the musical seem a little more authentic to the whole Monty Python theme. Some of the parts were different from the "Monty Python and the Holy Grail" movie, but I think it made it that much funnier because we didn't exactly know what to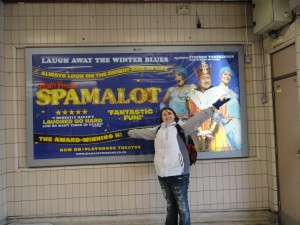 expect.
There were times when events or people from the present would be put into the musical. I believe Susan Boyle was mentioned. There were some parts that I didn't understand just because it had to do with words that the English use that we don't. After the musical it was pretty late, so we didn't really do anything else afterward. I did feel accomplished, though, because I was not expecting on really doing anything, and instead we went to go see a musical that I really thoroughly enjoyed. If you're ever in London, check out "Spamalot!"