Author: Ellie Ashbrook
Program: CIS Summer in Thailand
Today will mark my first full week of living in Chiang Mai, Thailand. Since being in Chiang Mai, I have visited many historic sites and have learned so much about the culture that it will be difficult to share every detail about my experience.
Before I tell you about my first week of my Thailand experience, I want to reflect back on my first post and why I chose Chiang Mai. I have always had in mind that I wanted to experience something different from what I experience every day in my home country. I knew that Thailand would be an opportunity to achieve this. The way of life in Thailand versus how it is in the United States is completely opposite. The people of Thailand have a different way of driving (you are playing leap frog every time you need to cross the street) and have a different way of living.
The View from My Window
A few values that I learned about Thai people are that they find it very important to spend time, effort, and sometimes money to maintain relationships. Another value that Thai people strongly have is that they are present-oriented and look for fun and happiness in everything. They don't take anything too seriously.
Every day since I have been in Chiang Mai, I have experienced the way Thai people value relationships and value the present versus the future. This past Wednesday, I had my first day of orientation at the Language Institute at Chiang Mai University. That night, we were invited to eat dinner with the staff at a place called, "Sip Song Pan Na Khantok" in Chiang Mai.  In Thailand, a traditional "Khantoke" dinner is a way to introduce northern food and performance to foreigner friends. They provide you with endless portions of food, so you will not leave hungry or be hungry for a few days. As we ate dinner, several boys and girls performed from the drama school at Chiang Mai University and towards the end of dinner, we were able to dance with them. It was a great way to break out of your comfort zone.
Khantoke Feast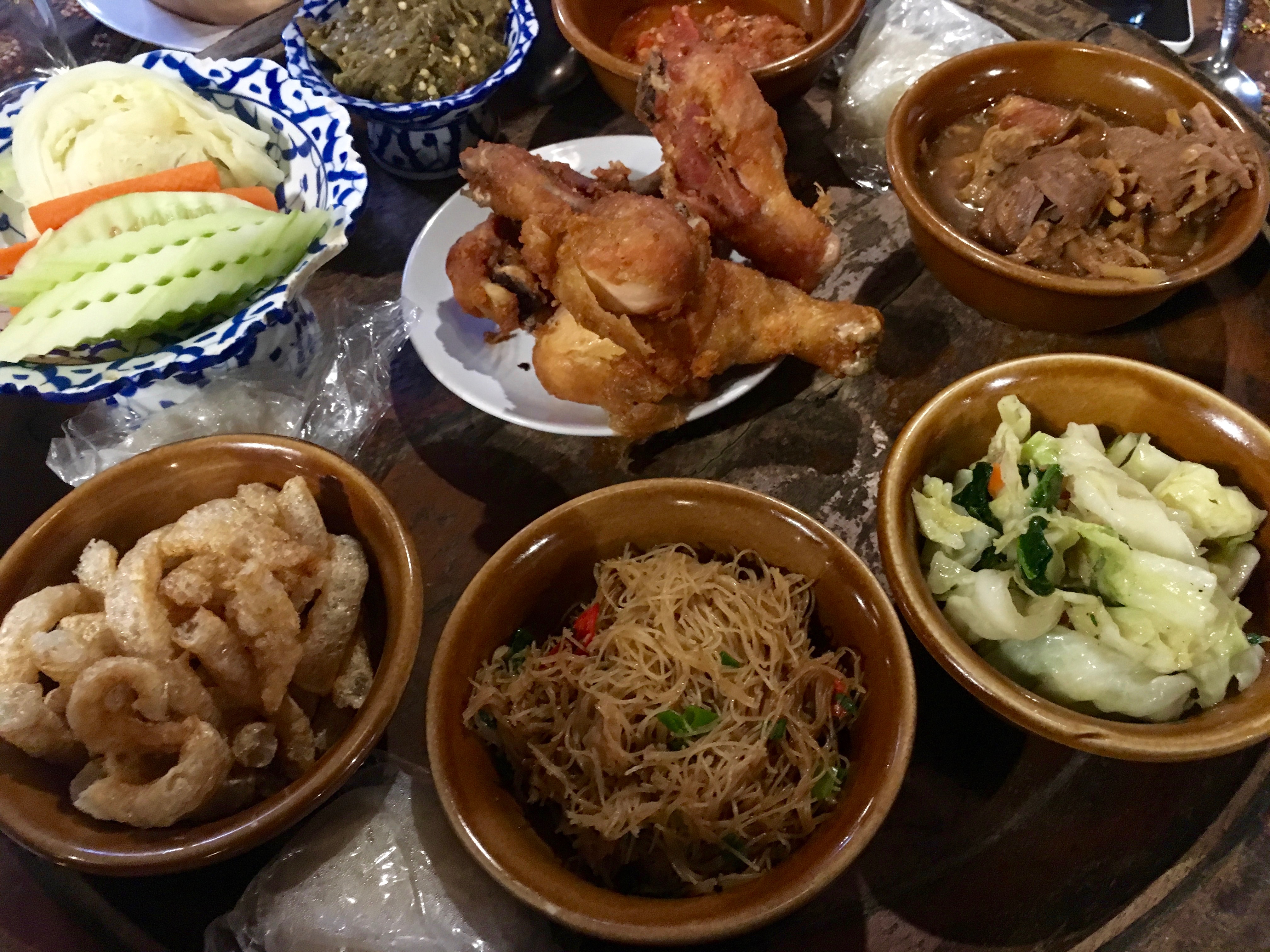 One of my favorite activities that we have done is learning how to cook Thai food. The first day you are in Thailand, you will either eat noodles or rice. These two foods are everywhere! We drove to a local market (there are markets on almost every street in Thailand) and were shown the various foods that are included in Thai dishes.
Street Market Food: Chiang Mai Gate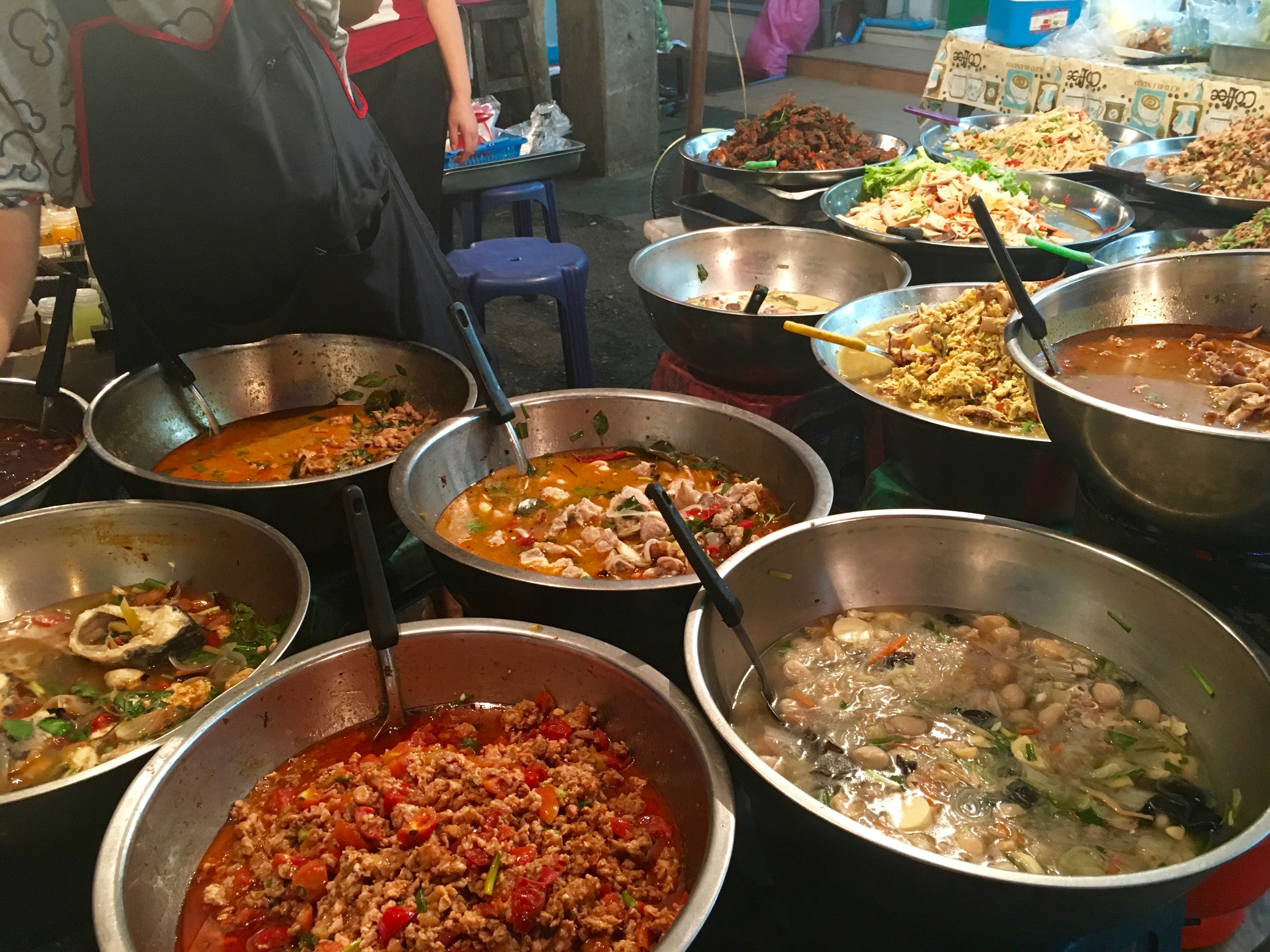 From the market, we were driven to a kitchen farm. Our Thai cooking instructor gave us a list of foods to choose from that we could cook. Before we began the class, we enjoyed a welcome snack (Meang Khum), which is made with: roasted peanut, ginger, toasted coconut meat, chilies, shallots, sliced lime, a betel leaf and syrup which is drizzled on top. How to eat it: fold the betel leaf as a cup. Put all the ingredients in the betel leaf cup. Top with the sweet syrup. Eat the whole betel lead cup in one bite and chew it slowly. You will touch all flavors at one time.
Meang Khum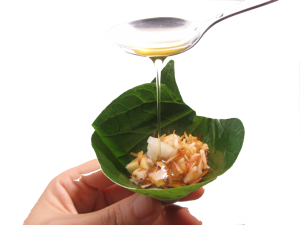 The purpose of this welcome snack was to introduce all the flavors of Thai cooking. Thai cuisine is known for being spicy, so this is a balance of the five fundamentals: hot (spicy), sour, sweet, salty, and (optional) bitter (this was the first time I have tasted all of these tastes in one bite)…I recommend trying! Once we had our welcome snack, we began cooking our Thai dishes. Our cooking instructor made sure that we understood the rules…always smile even if your food becomes inedible.
Stir-fried Chicken with Cashew Nut (Kai Pad Med MaMoang Him Ma Pan)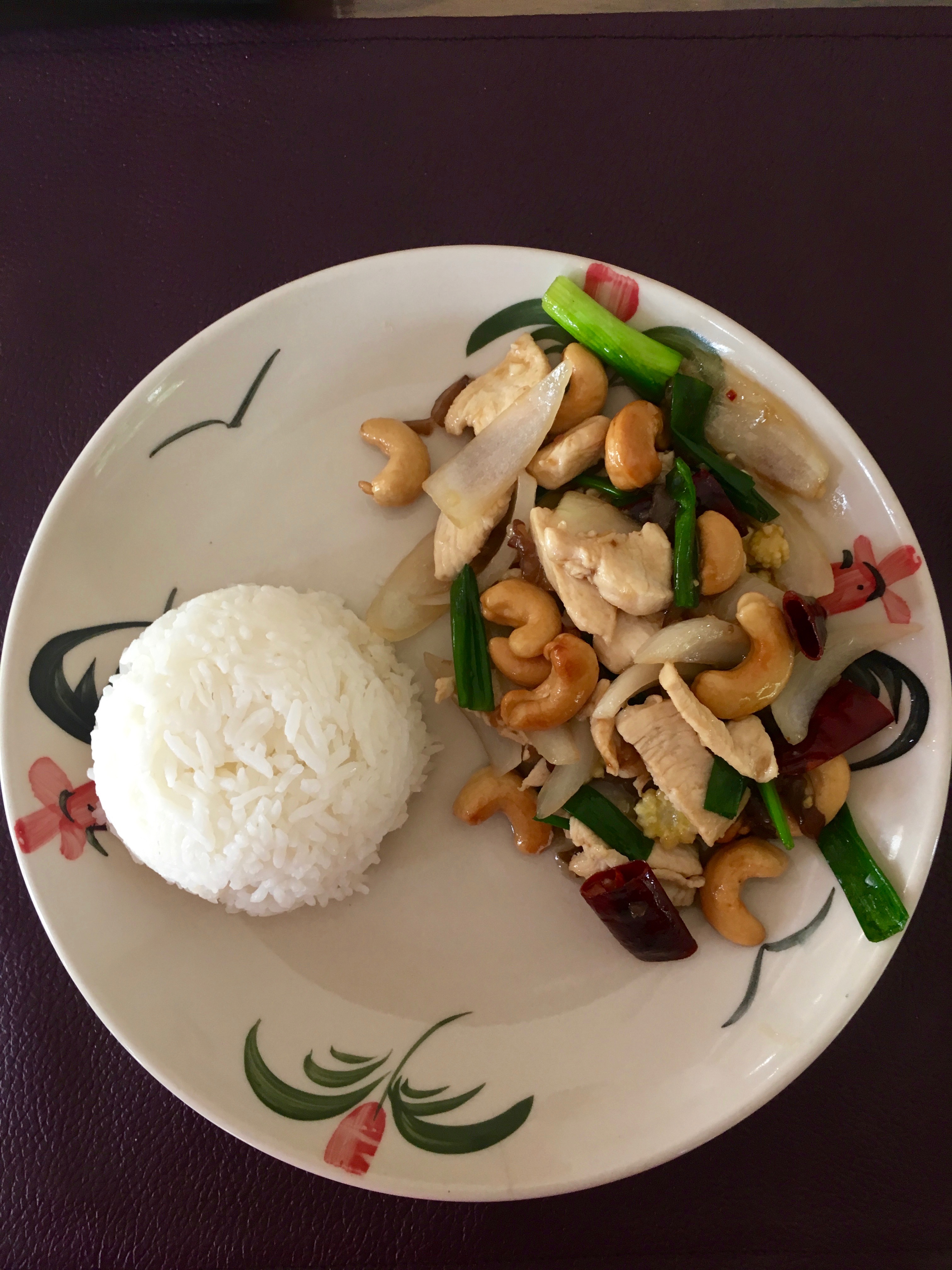 I cannot wait to share more of my Thailand experience with you!
How to make the syrup for Meang Kim:
Ingredients: palm sugar, salt, sliced shallot, sliced ginger, and water
Mix the ingredients well.
Heat on low until it becomes sticky.
You can book your own Thai cooking experience with asiascenic.com