Author: Ellie Ashbrook
Program: CIS Summer in Thailand
Since my first week in Thailand, I have been more adventurous (and a bit rebellious) than I have been in my 20 years of living. There are a large number of stray dogs in Thailand because there are no kennels to host them. The monks of the Buddhist temples will provide the dogs with food and water but otherwise they roam the streets looking for any scraps to survive on.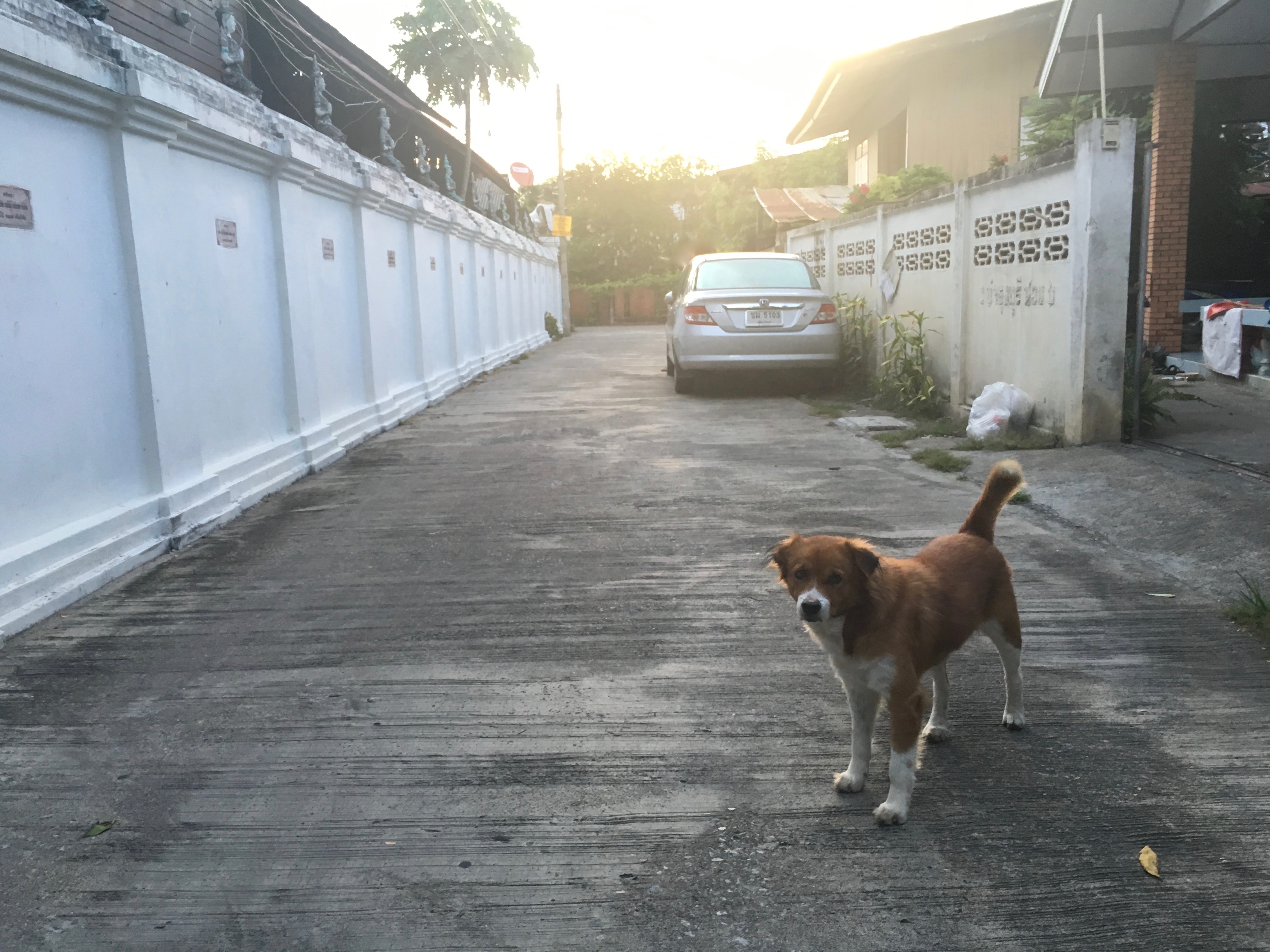 Each weekend there is a weekend market with lots of food and homemade goods to purchase. There are always dogs roaming the streets of the markets and you need to be careful that they don't lick you or your wounds. There was this one Chihuahua, and I didn't think twice when he began licking me. I kept a positive mind, and thankfully, I have not experienced any signs of rabies.
I have talked to people about traveling the world and a lot of  that responses I get are about being afraid of the unexpected. I had no idea what bad things I would run into when visiting Thailand, but so far, I have had a great experience. There will always be things to be aware of, animals with rabies for instance, but there are ways to keep you safe.
This past weekend, I visited the Baan Chang Elephant Park in Chiang Mai. This was one of the coolest experiences of this trip. The park gave us the chance to feed a basket full of bamboo pieces and bundles of bananas to the elephants.
Honestly, at first I couldn't get myself to approach the elephant because of their size. I got over the fear of how big these creatures are and reached my arm out. As soon as I did, the elephant swung his trunk towards me, and I was face-to-face with his nose. I couldn't believe that I was feeling the air coming out from this elephant's nose.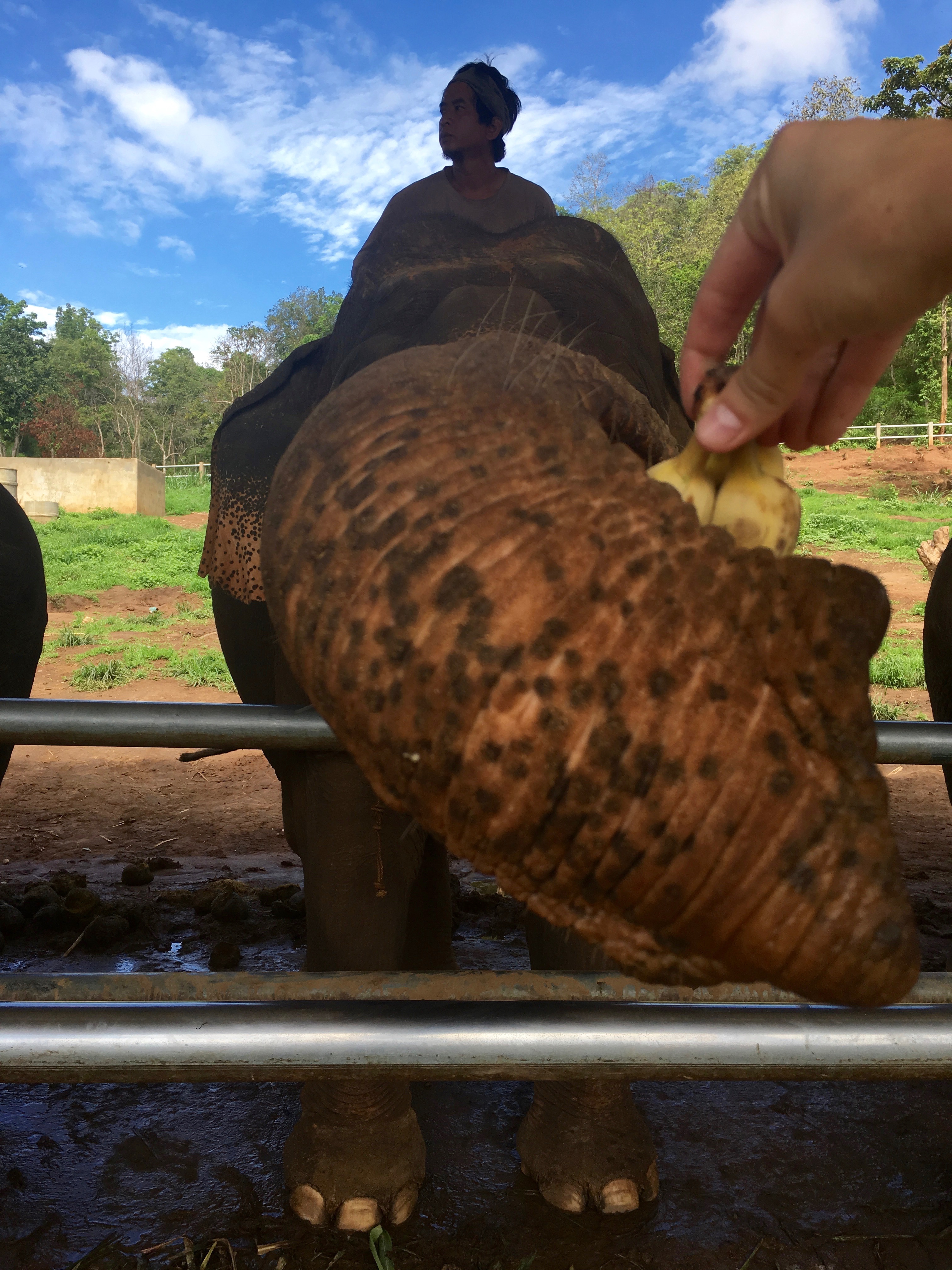 After feeding the elephants, we were told that they could give kisses.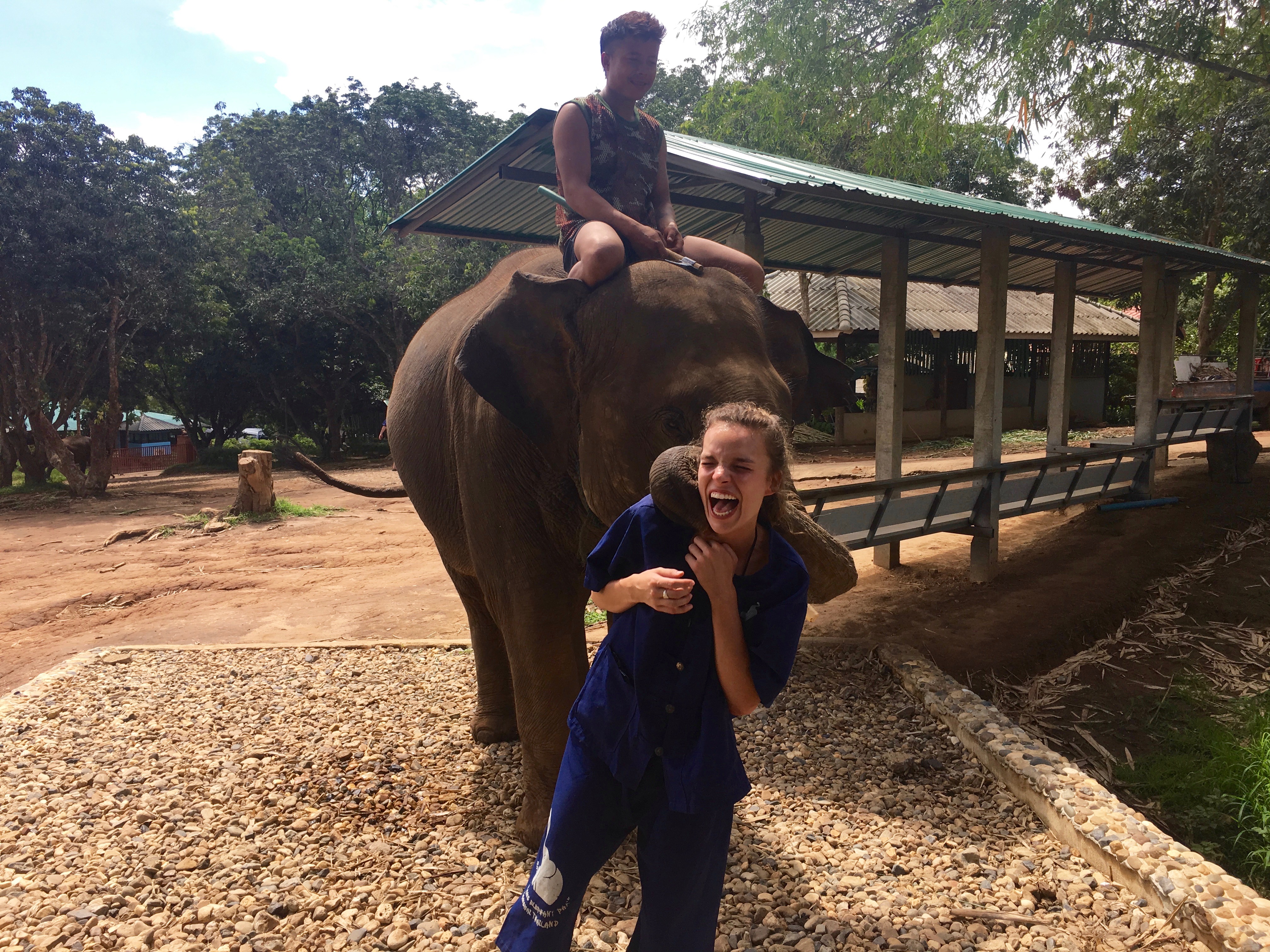 Yep, that picture with me screaming is during the kiss.  Once we were covered in elephant snot, we were provided with a Thai lunch. The lunch was Pad Thai (a Thai favorite). As soon as we finished lunch, I started to feel very ill. I had been feeling sick since the morning, but the Pad Thai did not settle well with my stomach.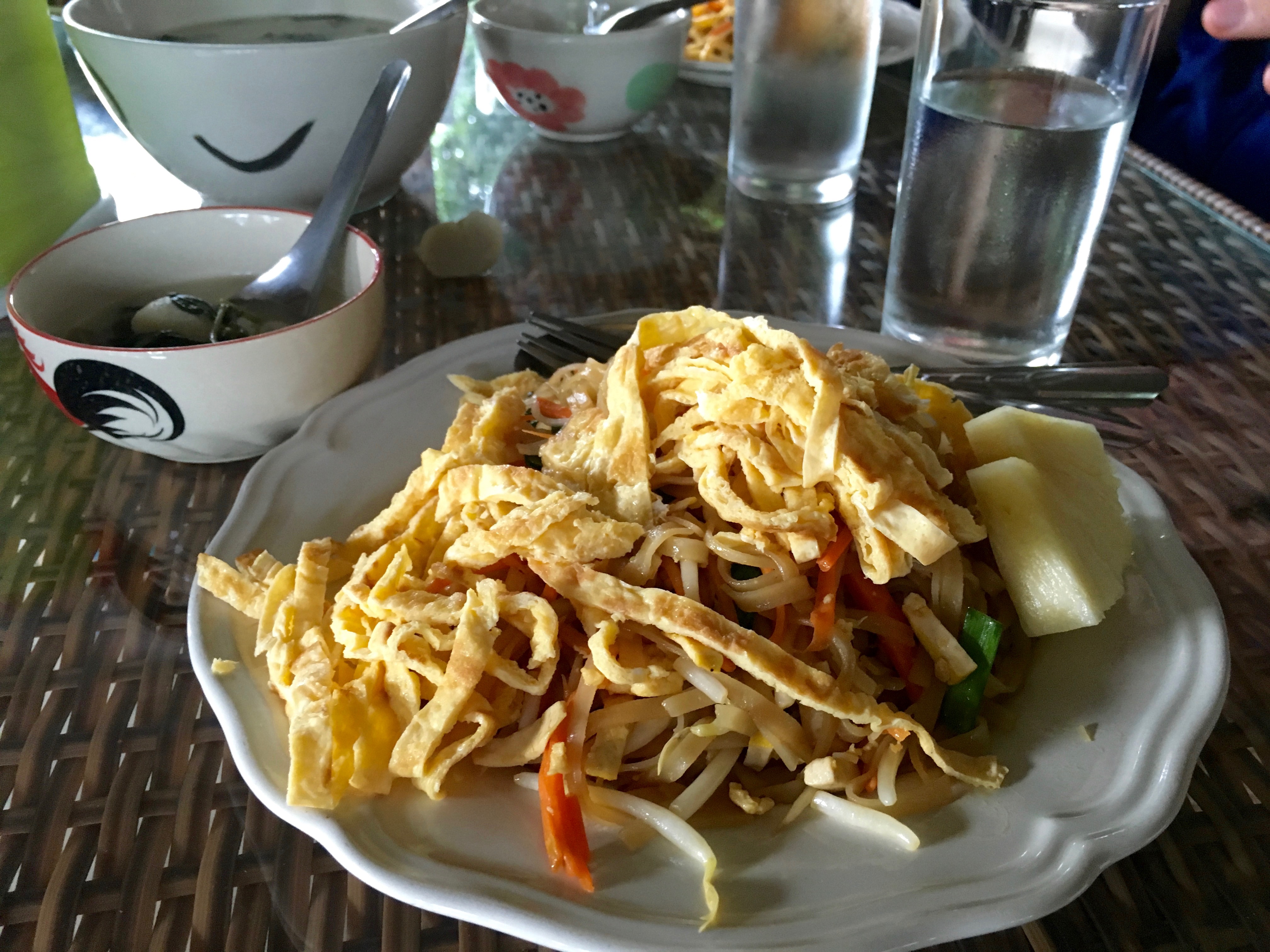 Once everyone's lunch settled (except for mine), we were given directions on how to control the elephants while riding them. Riding an elephant is a difficult thing (especially when Pad Thai is not agreeing with your stomach). I tried to enjoy every minute of that ride, but it was quite difficult when trying to focus on not falling off a two-story high elephant. The ride home was about an hour back, and every minute of that ride, I could feel the bumps in the road and the Pad Thai slowly coming up. I'll make this short and say that I'm thankful for good friends.
The day after the elephant park, I went zip lining in the mountains of Bann Wang Hang, Maeram. This was my first time and will not be my last. The adrenaline rush that I felt through my body while flying through the jungle has been the greatest feeling by far. The zip line adventure included several obstacle courses that also gave me a rush of adrenaline. Look up what abseiling is (but my abseiling experience was without any ability to stop myself). Our guides of the zip line adventure made the trip even more enjoyable (our guide called himself Crazy Man).
The Zip Line Gang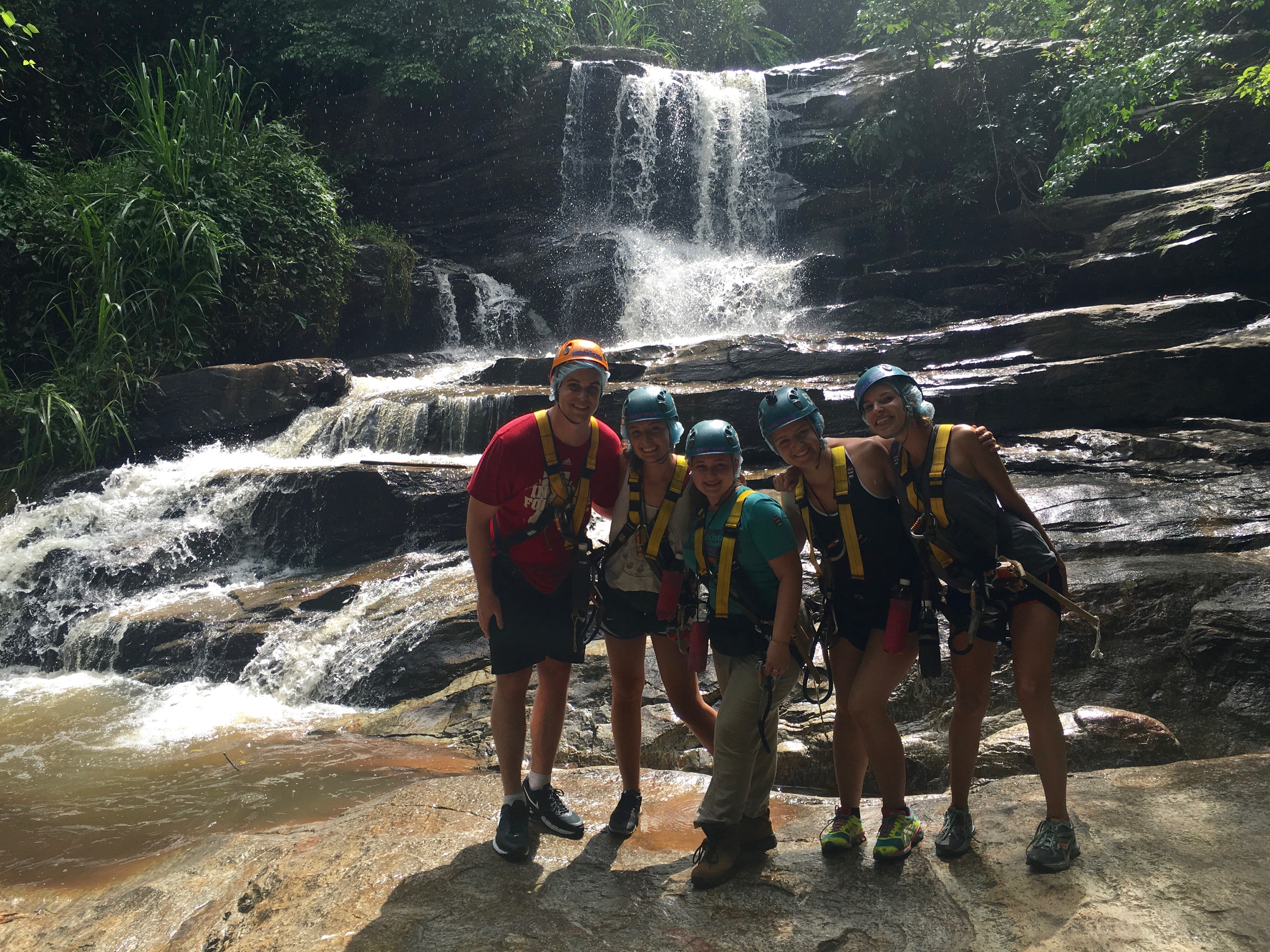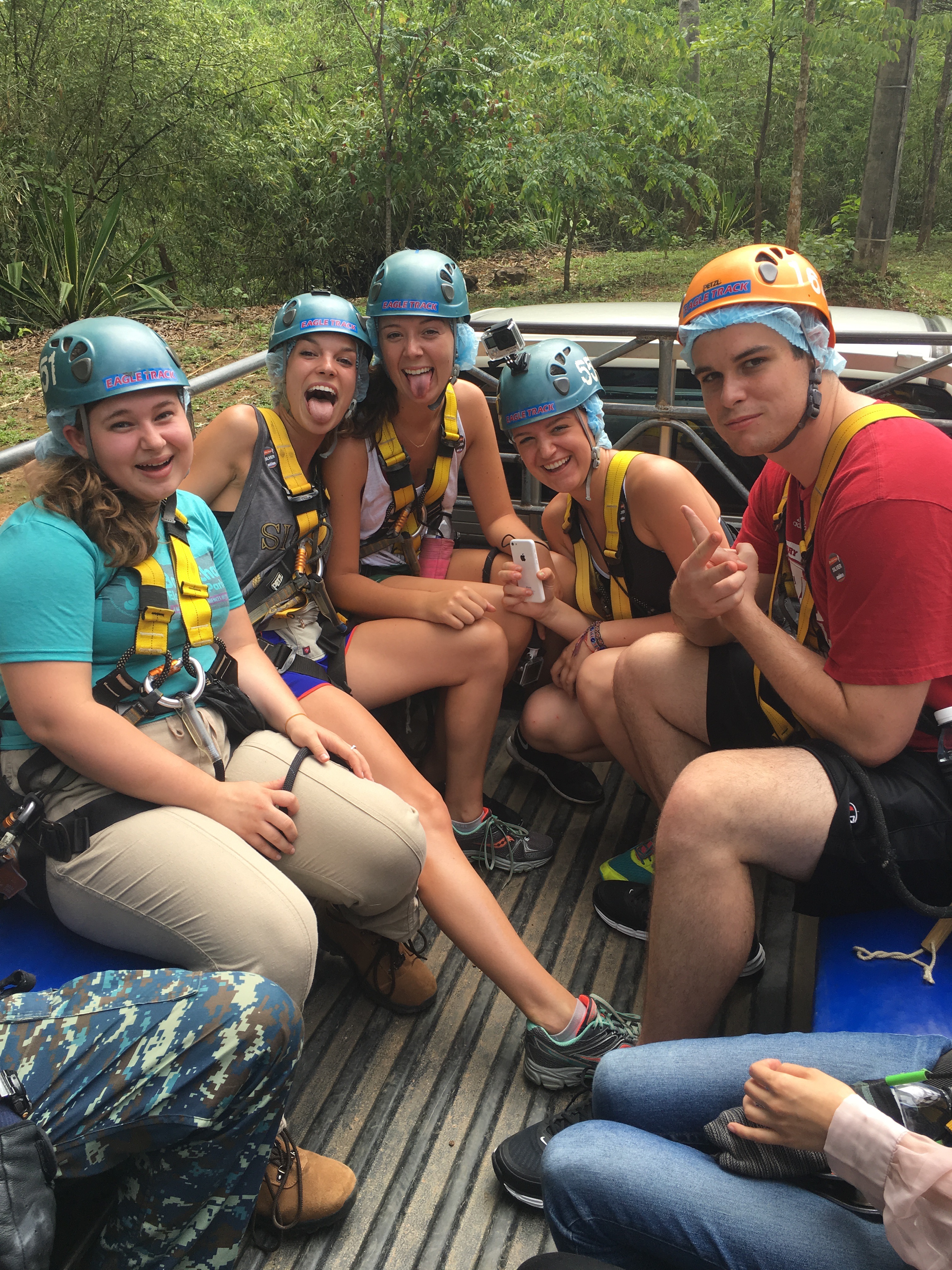 Crazy Man, the guide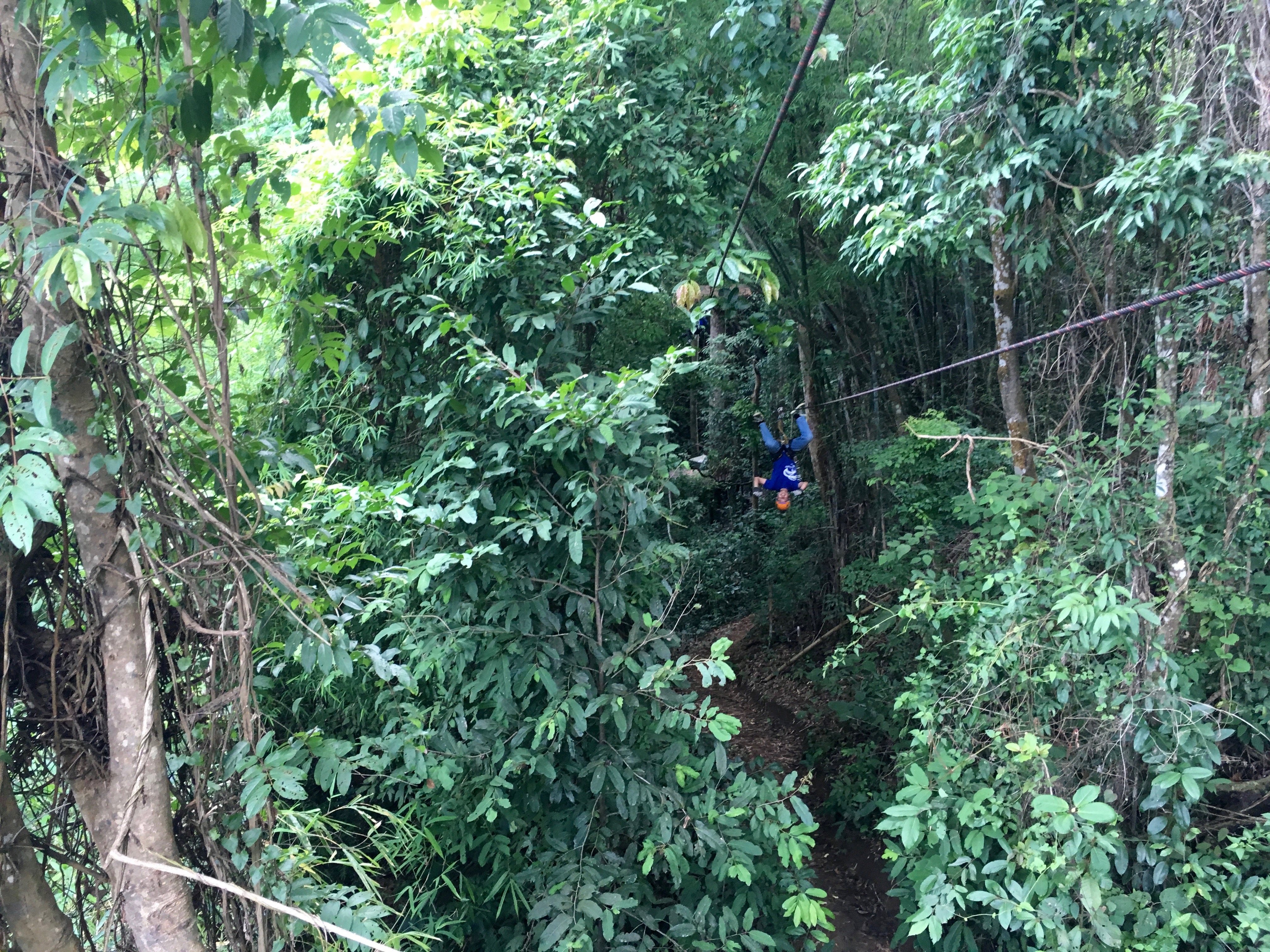 Thailand has been so good to me, and I still have so much to experience on my trip. It is normal to be afraid of the unexpected, but once you get over that fear, the reward is remarkable.