Author: Tiffany Luehrs
Program: Hangzhou Study Center – China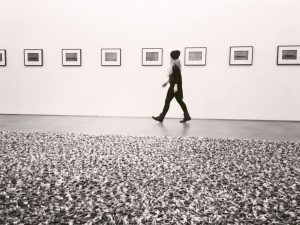 One of my favorite parts of our Thanksgiving weekend in Shanghai was having the chance to roam around art galleries and museums including the Shanghai Urban Planning Exhibition Center, Shanghai Gallery of Art, Rockbund Art Museum, Art+ Shanghai Gallery, and  the Propoganda Museum.
I could go on about each gallery and museum for ages, but I want to focus this post on a artist I discovered at the Art+ Shanghai Gallery. The artist that caught my eye was not even a part of the exhibition they were showing by an artist named Ye Hongxing that created beautiful artwork out of thousands of stickers.
While walking around the exhibit, the owner of the gallery began sharing with us the story of the gallery and what brought her to Shanghai. She then led us to a backroom with artwork from previous exhibits. One of the artists that she told us about is Yoa Lu. At first, when she pointed out his painting, I saw  picturesque Chinese landscape, but looking closely I saw that the Chinese landscape I was looking at was actually a painting of apartment buildings and green construction  netting. In the background were traditional temples and mountains.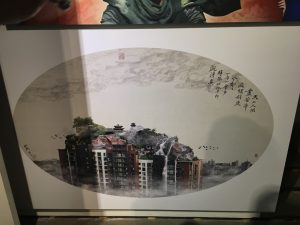 Through his art, Yao Lu expresses his concern for China's rapid urbanization and the loss of traditional buildings. The manipulation of utilizing the traditional style of a Chinese painting to portray China's present day value, consequences of rapid expansion, and blatant environmental destruction was absolutely intriguing to me. If you have the chance, you must check out Yao Lu's work and when in China, the many art galleries displaying the works of China's leading contemporary artists and photographers.
-Tiffany