Blogger: Natalie Wilhelm
Location: Cergy-Pontoise, France
One of the coolest things about studying abroad this semester is that my best friend Quinn is studying at the VU Study Center in Cambridge. We planned our trips specifically so that we could visit each other while abroad. And let me tell ya, it's worked out perfectly.
I had a week-long vacation in February, so I hopped on the Eurostar and headed over to London. The Eurostar is a high-speed train that goes underneath the English Channel. While the idea of being on a train in a narrow tunnel underneath all that water terrified me at first, it was actually a super cool experience. The ride was about two hours and twenty minutes long. I highly recommend the Eurostar to anybody who doesn't like the hassle of flying.
Cambridge is a wonderful, quintessentially English, old town. This was my first time visiting England, and I was pleased to see that the country really does look like the movies. I'm talking old, brick buildings covered in ivy. Cobblestone streets. People driving on the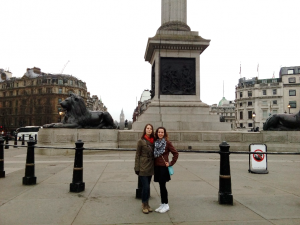 wrong side of the road. It's like a Harry Potter movie.
London was amazing, as well. Quinn, another VU student (Kate), and I woke up before dawn and took the six AM train into London that Saturday. We walked around Trafalgar Square before it was overtaken by tourists. It was incredible to stroll through the streets before people flooded them. Quinn and Kate showed me Westminster Abbey, Big Ben, and the London Eye.
It was interesting to take in London's own unique vibe. Even in its most touristic areas, I felt like London had its own agenda. We were only temporarily there, and the city would continue with or without us. I couldn't help but compare London's vibe with that of Paris. London is stable, regal. It's the big brother who knows exactly who he is. Paris, on the other hand, is the flighty sister. She's a people-pleaser. She's gorgeous, but she's also quick to change.
Paris is, of course, beautiful in its own way. The buildings are old, and the architecture is gorgeous. When I'm there, I get caught up in the splendor. But sometimes, Paris feels fake. There are people around every single monument trying to sell you cheap Eiffel Tower statues that will be broken by the time you get them home in your carry-on. It's hard to tell which cafés are tourist traps and which aren't. To me, it's hard to get anywhere in Paris that doesn't feel touristy and overrun with people who are just visiting.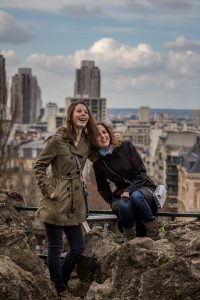 There are parts of Paris that I really love, though. I love going to the top of Sacré-Coeur and looking out over the city, then walking around the back of Montmartre. I love eating crepes at the foot of Notre Dame. I love the Buttes-Chaumont Park, where I can pretend I'm not in the city for a few hours. I even love the metro system, where I once sat next to a hassled-looking guy editing a script in French. But there's something missing in Paris, and I'm not quite sure what it is.
Either way, I enjoyed showing Quinn and our friend Matthew around the city when they came to visit last week. We went to see all of the typical Paris tourist attractions: the Eiffel Tower, the Notre Dame, Shakespeare and Co., a tiny crepe stand, and all that. Seeing them see the city was really fun. I've been to Paris probably a dozen times since I came to France, so the thrill of seeing all this has worn off a little. It was fun to see the city through fresh eyes again, even if it was only for a little while. It was also cool to have them in a place that previously had been separate from my friends from home.
Despite my complicated relationship with Paris, I'm thankful for the opportunity to live so close by. Maybe I was meant to end up here, where my comfort zone basically exploded into smithereens, and I was forced to land on my feet. Maybe Paris, which was not built for me, was meant to teach me not only how to stay myself in somewhere completely different from home, but how to love and accept myself even more. Paris, like London, will continue to stand with or without me. What's important is the lessons I take away when my time in her cobbled streets is over.
A bientôt,
Natalie