Author: Elisabeth Walters
Location: Reutlingen, Germany
Pronouns: She/Her/Hers
When choosing a place to study abroad, one of the aspects I considered was which location provided more opportunities to travel and observe different cultures. For me, Reutlingen provided easier access for my desires, however; I never imagined the amble amount of experiences that the location itself contained. Within just one day this city has provided me with an experience that cannot be found in any other study abroad location.
When starting off my day in Reutlingen, I walked around the campus and local streets. While doing this activity, I realized the calming atmosphere of the city as well as its unique beauty compared to where I call home. Also, when choosing to walk, I got to closely observe the true culture of the country and city, in which I witnessed to be true to staying both healthy and active.
After enjoying my morning and early afternoon, the Valpo group met with the program's Resident Director, who is thrilled to show our group the true culture of the country. After the meeting, we headed to downtown Reutlingen with the Resident Director to see specific sites and visit the city's Weindorf (wine fest). Before visiting Weindorf, the group visited the narrowest street in the world, which is in downtown Reutlingen as well as the Marienkirche (St. Mary's Church).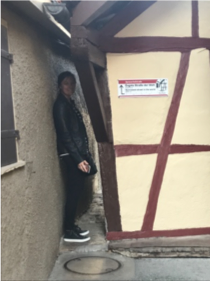 The Marienkirche, which was built between 1247 and 1343, is one of the most Gothic buildings in Swabia (the region in which Reutlingen is in). When inside the Marienkirche one can easily depict the differences between American and European culture, not only through the architecture, but the furniture within the church.
Once we explored the downtown area a little bit, we continued onto Weindorf, where the cultural experience did not stop. While at Weindorf, our group enjoyed different types of wines and enjoyed the music provided by two talented accordion players. While sitting in the streets of downtown Reutlingen I could not help but enjoy the fun and exciting new atmosphere.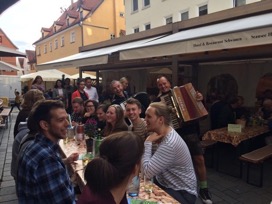 At the end of the night, we were able to choose where we wished to go. Although we were allowed to separate, the whole group decided to visit the Irish Pub and there we met other international students who are studying in Reutlingen as well this semester. Through this meeting, we got to witness a mixture of cultures as well as develop new friendships.
Overall, the lesson learned was that one can always find culture and unique experiences within the city they are staying in. Also, that the program in Reutlingen has more to offer than what meets the eye.