Author: Elisabeth Walters
Location: Trier, Erfurt, & Cologne Germany
Pronouns: She/Her/Hers
When students study abroad in a foreign country for a semester, they come back saying they have seen and experienced the culture of that country. However, one of the professors, here in Reutlingen, mentioned how "one cannot go to Washington D.C. and say they've seen America; just as one cannot say they went to Reutlingen and seen Germany". Thus, my roommate and I decided to visit all sixteen states of Germany.
When we made our decision to complete this task, we had already visited five of the sixteen states through both school-guided and personal excursions. Therefore, we decided to focus on the ones we had not visited yet. The first stop was the state of Rheinland-Pfalz, which we had chosen Trier as the city we would visit. When visiting Trier, we walked around the city and saw the Porta Nigra, which is a Roman Gate.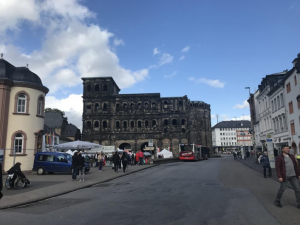 Also, we visited the Aula Palatina, originally built as an audience hall for Emperor Constantine's Palace, and the Electoral Palace, which is attached to the Aula Palatina. During our travel to Trier we witnessed how the state and city was focused on its production and sales of wine, whereas in Reutlingen this is not the case.
While in Erfurt, we first visited the Krämerbrücke (Merchant's Bridge). The Merchant's Bridge, which is the longest Medieval Bridge in Europe that has inhabited houses, was beautiful; however, it is still a mystery on how one gets to the middle buildings on this bridge.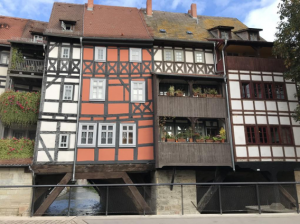 Next we visited the beautiful Erfurt Cathedral, here we realized that a majority of people in this state did not speak English very well. Thus, our German language skills were utilized more. Lastly, we visited the Erfurt Zoo; however, when traveling to the zoo, we witnessed a demonstration pertaining to chemicals in food products. Through witnessing this demonstration, we were able to observe the importance of health among the German people.
The third state that we accomplished was Nordrhein-Westfalen. For this state, I visited Köln, with another Valpo student, on German Unity Day. During this national holiday, all schools have off alongside a majority of shops and museums being closed. However, while in Köln, I was able to visit the Kölner Dom (Cologne Cathedral) and the Schokoladen Museum (Chocolate Museum) as well as a stroll along the Rhine River. The first stop in Köln was the Kölner Dom because the cathedral is directly outside the train station. Although I did not get to go within the cathedral, I was able to marvel at its towering height from outside. The second stop was the Schokoladen Museum, there I was able to learn about the different ingredients, the evolution of brand advertising and production, and even about different countries' economies being affected by chocolate production. Although I learned a varying amount of fascinating information, my favorite part was when we received free chocolate throughout the tour because who does not love free chocolate. Once we visited the museum and cathedral, my friend and I strolled along the Rhine River. Overall, through this experience, we were able to observe another side of Germany, one where chocolate is just as important as beer to the culture of Germans.
As of now, I currently have eight more states to visit before my time in Germany concludes. However, although I have not seen all the states yet, I'm starting to get a better image of what Germany is really like. Through the states I have visited, I am able to diminish the stereotypes of Germany that I once believed and replace them with real facts about the culture and behaviors within the country.