Author: Bianca Gamez
Location: Italy, Greece, &  Spain
Pronouns: She/Her/Hers
As my classes started to come to an end, the Boston University Program gave the students a week of vacation before we had to start our internships. A couple friends and I decided that we should use this week to explore the rest of Europe and be "tourists". We planned out our week to leave immediately after our finals and make our way to Rome, Italy for a day, Sorrento, Italy for three days, then Athens, Greece for a day, and finish up in Barcelona, Spain for the rest of break. At first, we did not realize that we were being very ambitious about our trip until we would talk to others about our plans to explore Europe, and they would just stare at us with shock in their eyes.
Regardless, we continued with our plans and took a flight from Paris to Italy, and it was one of the best decisions I have ever made. Italy has so much to offer and so much to eat! My friends and I ate homemade pasta, pizza, and cannoli whenever we would go out to eat. We also ended up exploring the Colosseum, Pompeii, the Trevi fountain, and swam in the Mediterranean Sea.
When we made our way to Athens, we mainly focused on seeing the Parthenon, the Acropolis of Athens, and the Temple of Zeus. Afterwards, we went to the street markets to look around and we even had the opportunity to experience a Garra Rufa fish session, which is when fish eat the dead skin off your feet.
In Barcelona, which was our final destination, my friends and I decided to take it easy since we were so exhausted from all the traveling, walking, and exploring so we didn't do too much adventuring. We did, however, visit some of the well-known cathedrals and attended a paella (a Spanish dish) cooking class.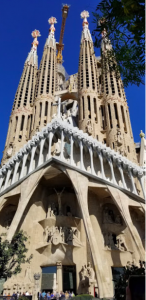 Overall, exploring Europe has given me the opportunity to be exposed to different languages that challenge me to learn new words and be able to appreciate the culture and traditions of other countries. This experience opened my eyes to how the culture is different in the U.S. and Europe and how one has to fully immerse themselves to that culture to truly obtain the essence of that country and culture. On the other hand, I also learned that culture shock is true and can happen at any moment. For instance, I experienced culture shock when my friends and I would walk around to find a place to eat and every place would have someone outside of the restaurant that would try to persuade you to eat there by offering free dessert, free wine, or just explain how wonderful their place is compared to the others. I personally did not like this and found it to be overwhelming and annoying after a while, but I slowly grew accustom to it, and I am now capable to continue walking and just say no thank you.