Author: Elisabeth Walters
Location: Dublin, Ireland
Pronouns: She/Her/Hers
Normally, back at Valparaiso University, we are only granted two days plus the weekend for fall break. However, when studying abroad at Reutlingen University, the students are granted a full week. Thus, majority of the students were able to utilize ten days to either travel to other places or stay within Reutlingen. My roommate and I decided to travel around Ireland and the United Kingdom to once again experience different cultures. During our first two days of break we decided to spend that time in Dublin, Ireland.
We left on a train to Frankfurt International Airport on Wednesday night in order to make our flight at 6 am on Thursday. We decided that sleeping in the airport was more economical than getting a hostel for only a few short hours. Luckily, it worked out for the best and we made our flight and arrived in Dublin at 8 am. When we arrived, we immediately visited the Guinness Storehouse. At the Guinness Storehouse we got to learn about a major aspect of Irish culture, Guinness Beer. We got to learn about the different ingredients as well as how they are grown and how the company mixes the ingredients to get the well-known taste. We also learned about the company's marketing tactics as well as information regarding the founders of the company.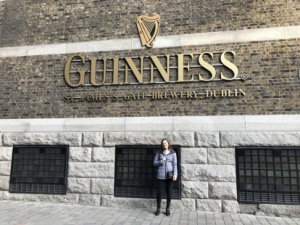 The day after visiting the Guinness Storehouse, we did a free walking tour of Dublin through our hostel. Through our tour guide, we learned about how Dublin got its name through the Gaelic term dubh linn, which means "black pool". The city received this name because at Dublin Castle the Poddle Stream met up with the River Liffey and created a deep pool. Also, we learned that Ireland has its own language, known as Irish Gaelic, and one of the words we learned was "sláinte", which means "cheers". In addition, we learned aspects of the city through our guide that we would have never learned by just walking to the sites and taking pictures. We learned information that helped enrich our ideas of the beautiful city and the country's culture.
After our walking tour, my roommate and I hung out in our hostel's lobby. During this time, we ended up meeting two other American students studying abroad, one in Paris and one in Barcelona. We ended up talking with the two other students for over two hours and learned more about their own experiences abroad and about their exchange programs. Thus, through this experience we were able to make new friends with other travelers and learn more about the cultures they were studying in.
Overall, by visiting Dublin, I was able to not only expand my cultural knowledge, but meet new people from where I call home. Also, I am able to come back from Dublin saying that I did more than just visit the sites, but I actually learned about what makes these sites so special to this fascinating city.