This weekend, Lauren, Caiti, Jess and I went to Ireland. Now, when you think Ireland, you think of Dublin, or Galway. No, we flew into Shannon, Ireland. Possibly the smallest city in Ireland. It was the cheapest flight we found and we figured it would be OK, there would be things to do, and we were right! But what an adventure. The town was so mall, it didn't even have a main road. It had a McDonald's (which we ate at 3 times) a gas station, a night club, and a single hotel where we stayed.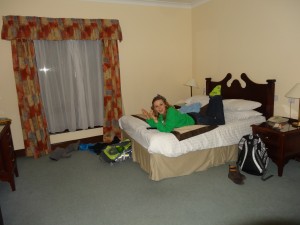 The Oak wood Arms hotel in and of itself was an experience because it was so fancy. Being poor college students, every time we travel, we have to book, hostels, hostels, and more hostels, but there was no hostel in Shannon, and only one hotel, so that narrowed our options to none. But man oh man, was it worth it! This hotel, compared to where we have been staying was absolute heaven! We had 2 rooms that were connected an they were so nice. We had two bathrooms (which means two showers) for 4 people when usually, its one bathroom for a whole hostel. Other perks you might ask? FREE breakfast, a pub, and complimentary sauna and steam bath. How awesome is that? Of course, we utilized all these benefits. We said it was our holiday away from our holiday, our one nice relaxing weekend away from it all.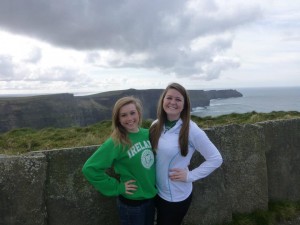 Friday we went down to Bunratty Castle and to Limerick City to spend a day seeing a little of Ireland. Bunratty Castle was amazing,(as all castles are), and it was connected to something called Folk Park which was a miniature village that one could explore and see how the Irish lived around the time of the castle. It was very cool, there were pigs, and cows, and deer and I felt like I was back at home. Very nostalgic! There was also the biggest dogs you will ever see. I took some pictures but the pictures do not do them justice. They were called wolfhounds and when one of them was standing he came up to Caiti's shoulder. He was literally around or over 4 feet, and when he had his paws up on the fence, he was massive! Very scary, and I was glad they were behind a fence!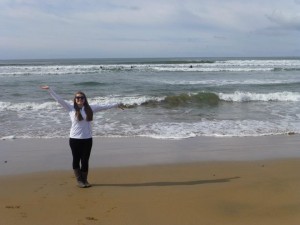 After Bunratty we made our way to Limerick which is a cute city. We shopped around and took our time.
Saturday, we had decided to go up to Galway to see the Cliffs of Moher (or so we thought) but it turns out, Galway is a good hour away from the Cliffs. Our taxi driver that was dropping us off at the airport where we were supposed to get on the bus to Galway told us that to take a taxi to the Cliffs from Galway would have been an astronomical price and not worth our money, so he offered to drive us up to the Cliffs and see 5 other beautiful places in Ireland, for half of what we would have been paying for just the Cliffs. We hopped on that deal, and our taxi driver turned tour guide started us on our way. We went to a castle turned hotel first where 4 of our presidents, the Beatles, the Beach Boys, the Rolling Stones, and many others had stayed the night. We toured the gardens and fed the ducks before moving along. Next he took us to the beaches of the Atlantic ocean. It was strange thinking that I was on the opposite side of the Atlantic that I am usually on and staring off the where America is, 3000 miles away. It was a beautiful day to be on the beach, and even though the water was freezing, there were still tons of surfers. After the beach, he took us to a small fishing village and we saw the bots that go out in the summer and catch all the crab, lobsters, shrimp, and fish that are supplied to the local restaurants daily. It was so cool! Finally, after we had seen all that, he dropped us at the Cliffs of Moher and gave us one hour. Let me just tell you, one hour is not near enough time to take in this scene. The cliffs are absolutely massive, and you could walk then for hours and always get a different view of them. We didn't get to walk along all of it because we didn't have time, but the views we saw were spectacular. I did not want to leave at all. The sun was shining, the sky was blue, the weather was perfect. It was so amazing! The Cliffs were so indescribably beautiful. If you ever get the chance, most definitely go there, it is very worth it. Parts of Princess Bride, Harry Potter, Leap Year, and P.S. I Love You were filmed on these cliffs. After the Cliffs he took us to Doolin which is the most western point of Ireland and we had a beautiful view of the Cliffs in the distance and ocean and the waves. It was fabulous! And finally, he took us on the most picturesque drive in Ireland through eh Burren, and on the corkscrew road up the hills where we had beautiful views of Ireland. We really could not have asked for a better day. It was absolutely perfect! The whole tour lasted six hours and it was so much more than we had imagined we would see of Ireland. So incredible!