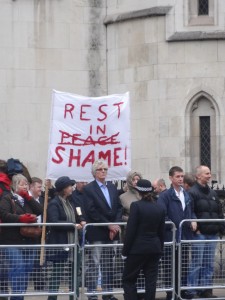 Yesterday, my housemates and I were fortunate enough to get the chance to go to Margaret Thatcher's Funeral Procession in London. We were there to witness history being made. We got up at the crack of dawn to get to London at a good time so we could get front row spots along the procession route from Westminster Abbey to St. Paul's Cathedral. I'm sure some of you are thinking "Weren't you guys afraid of going to something so controversial right after the bombings in Boston?" We sat down as a group and decided that it would be safe enough and it was something we really wanted to do. However, just to be safe, we didn't choose a hugely popular place to stand in case something would happen. We chose a spot along Fleet Street across from the Courts of Justice and it proved to be a very successful location for us to stand. Some of our group were interviewed by the Guardian Newspaper, the biggest newspaper in London (equal to the New York Times) and also by another public newspaper. There was a camera set up right across from us on the street and a picture of us and the casket being pulled by the carriage ended up on Yahoo! news UK and USA versions. How awesome is that? And there was a picture of us on the Guardian Newspaper's website that went a long with one of the Iron Lady articles. We got our 15 minutes of fame from that spot we picked.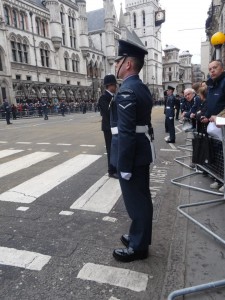 The procession itself, though. That was the best part. It was so incredible to witness such a historical event. The passing of an era, the funeral of one of the most influential Prime Ministers that England has ever had. Depending on what Brit you talk to, her influence could be the best thing or the worst thing. She was very influential, but she also divided a great nation with her decisions in while in office. Yesterday, we saw many people protesting the funeral and there were signs that said things along the lines of "Rest in Shame" and "The Iron Lady, Rest in Rust" however, we also saw signs from the polar opposite viewpoint like the one that said " But We Loved Her" It was so interesting to see all this division in the nation again because of her death. It gave me a little insight as to what the nation was like when she was still in office. She was undoubtedly a great lady, yet one of the most hated in all of English history.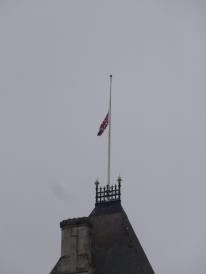 However much she was hated, she was also loved by a great many, and she received a great farewell from the people of England. People cheered and clapped and roared when she went by as a sign of respect. The procession started at Westminster Abbey with her casket in a hearse car driving down Whitehall Street toward Trafalgar Square. The hearse was surrounded by the British Army, Royal Air Force, Palace Guards, and the Navy, as well as the Metropolitan Police force. It was a huge procession. The Royal Air Force lined the streets of the procession all the way from Westminster Abbey to St. Paul's Cathedral with their heads bowed in a sign of respect. There were also many different bands playing along the procession. From Trafalgar Square the hearse drove along the Strand and on the Strand, her casket got transferred from the hearse to a horse drawn carriage. After that it came down Fleet Street where we were, and on the St. Paul's Cathedral. It was a grand procession and very impressive. It was an incredible experience and one I would witness again in a heartbeat.